Catalog
Series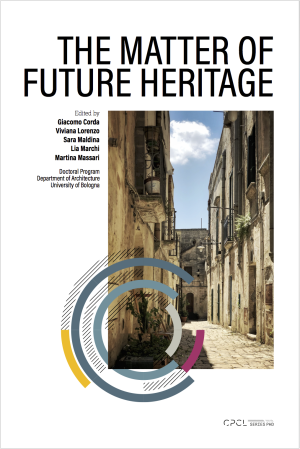 A free and open-access online book series exploring cultural heritage, creative practices and the city. The book series is jointly edited by the Department of Architecture at the University of Bologna and the Chair of History of Architecture and Urbanism at the Technical University, Delft.
Cultural heritage is considered as a set of practices able to produce economic and social changes within cities rather than a static repository of listed objects to be preserved. Through a series of call for papers and thematic sections, the journal provides a space of reflection on the ideas, the technologies, the actors and the practices that continuously produce and re-negotiate cultural heritage as a common good - a space for democracy, participation and citizenship.
CPCL Series is a project promoted by the European Journal of Creative Practices in Cities and Landscapes
https://cpcl.unibo.it
Editors-in-chief
Carola Hein, Technical University Delft
Giovanni Leoni, University of Bologna
Scientific Committee
Manola Antonioli, ENSA Paris La Villette, France
Pier Vittorio Aureli, Architectural Association, United Kingdom
Alessandro Balducci, Milan Polytechnic, Italy
Claudio Calvaresi, Milan Polytechnic, Italy
Andrea Cavalletti, University of Bologna, Italy
Neera Chandhoke, Delhi University, India
Gregor Fitzi, Potsdam University, Germany
Enrico Fontanari, IUAV University of Venice, Italy
Kalliopi Fouseki, UCL London, United Kingdom
Elisa Giaccardi, Technical University Delft, Netherlands
David Gissen, California College of the Arts, United States
Torgrim Guttormsen, Norwegian Institute for Cultural Heritage, Norway
Bernadette Nadya Jaworsky, Masaryk University, Brno, Czech Republic
Antonio Lucci, Humboldt University, Germany
Thomas Macho, Linz University of Art, Austria
Achille Mbembe, University of the Witwatersrand, South Africa
Alain Milon, University Paris Nanterre, France
Sarah Nuttall, University of the Witwatersrand, South Africa
Vincent Nadin, Technical University Delft, Netherlands
Joan Ockman, University of Pennsylvania, United States
Agostino Petrillo, Milan Polytechnic, Italy
Federico Rahola, Genova University, Italy
Henrik Reeh, Copenhagen University, Denmark
Hilde Remoy, Technical University Delft, Netherlands
Kun Song, Tianjin University, China
Teresa Stoppani, London South Bank University, United Kingdom
Pieter Uyttenhove, University of Gent, Belgium
Rashmi Varma, Warwick University, United Kingdom
Contacts
For inquiries and manuscripts
cpcl [at] unibo [dot] it
No titles have been published yet for this section.
0 Titles