The Matter of Future Heritage
Synopsis
In 2018, for the first time, the University of Bologna's Board of PhD in Architecture and Design Culture assigned second-year PhD students the task of developing and managing an international conference and publishing its works. The organisers of the first edition of this initiative – Giacomo Corda, Pamela Lama, Viviana Lorenzo, Sara Maldina, Lia Marchi, Martina Massari and Giulia Custodi – have chosen to leverage the solid relationship between the Department of Architecture and the Municipality of Bologna to publish a call having to do with the European Year of Cultural Heritage 2018, in which the Municipality was involved.
The theme chosen for the call, The Matter of Future Heritage, set itself the ambitious goal of questioning the future of a field of research – Cultural Heritage (CH) – that is constantly being redefined. A work that was made particularly complex in Europe by the development of the H2020 programme, where the topic entered, surprisingly, not as a protagonist but rather as an articulation of other subjects that in the vision of the programme seemed evidently more urgent and, one might say, dominant. The resulting tensions have been considerable and with both negative and positive implications, all the more evident if we refer to the issues that are closest to us namely the city and the landscape.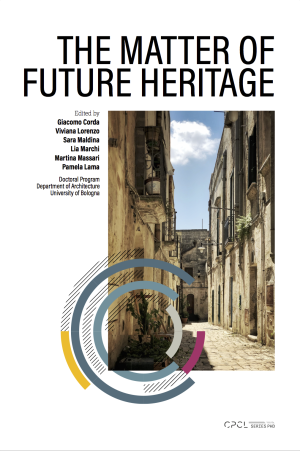 Copyright Notice
Copyright (c) 2020 Martina Massari, Giacomo Corda, Viviana Lorenzo, Lia Marchi, Sara Maldina, Pamela Lama (Volume editor)
License
This work is licensed under a Creative Commons Attribution 4.0 International License.
Details about this monograph
ISBN-13 (15)
9789463662741
Date of first publication (11)
2020-07-06