Cultural Heritage Leading Urban Futures: Actions and Innovations from ROCK Project
Synopsis
The ROCK project sees historic city centres as laboratories to demonstrate how Cultural Heritage can be an engine of regeneration, sustainable development and economic growth. ROCK approach foresees the systemic and flexible application of a series of role-model practices in the testing sites of three Replicator cities, to turn historic city centres afflicted by physical decay, social conflicts and poor life quality into Creative and Sustainable Districts. This book provides an overview of the project, extracting themes, material and final remarks from the Open Knowledge Week "Cultural Heritage Leading Urban Futures", held on 27-30 October 2020. Over the past three years, ten ROCK cities – Athens, Bologna, Cluj-Napoca, Eindhoven, Lisbon, Liverpool, Lyon, Skopje, Turin, and Vilnius – together with service providers and knowledge brokers have tested and advanced numerous soft and hard tools, collaborative approaches aimed at shaping sustainable, heritage-led urban futures. This book shows their shared results, best practices and lessons learnt from interdisciplinary research, innovative action, dissemination of knowledge and creation of new synergies at European level.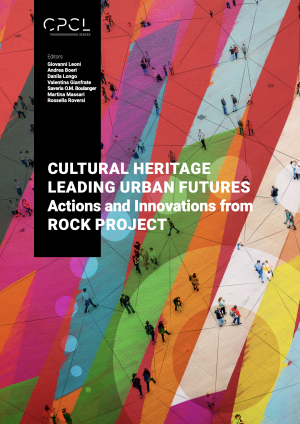 Copyright Notice
Copyright (c) 2021 Giovanni Leoni, Andrea Boeri, Danila Longo, Valentina Gianfrate, Martina Massari, Saveria Olga Murielle Boulanger, Rossella Roversi (Volume editor)
License
This work is licensed under a Creative Commons Attribution 4.0 International License.