Architecture and the Built Environment: Research in Context 2003-2009
Keywords:
TU Delft, Bouwkunde, Architecture, Built Environment, Visitatie, Research Assessment
Synopsis
This publication provides an overview of TU Delft's and Berlage's most significant research achievements in the field of architecture and the built environment, produced over the years 2003—2009. The publication is produced in preparation for the Dutch 2010 research assessment exercise Architecture and the Built Environment.
It is the first joint publication by Architecture, OTB and Berlage and hints clearly at stronger future ties between the three institutes, which are strategically positioned in the Rotterdam/Delft cluster of creative industries in architecture and urbanism.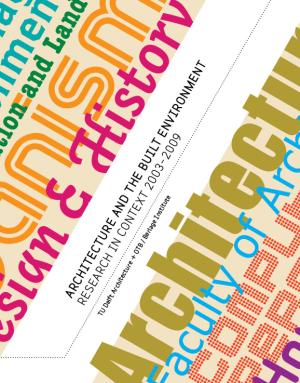 Downloads
Details about this monograph
ISBN-13 (15)
978-9079814060
Date of first publication (11)
2010-10-01
Physical Dimensions
204mm x 260mm