BK 10-15: Research Portfolio TU Delft Faculty of Architecture and the Built Environment
Synopsis
Over the years 2010-2015 TU Delft's Faculty of Architecture and the Built Environment (in Dutch: Bouwkunde or BK) made good progress with its research by:
merging the Architecture faculty and the Built Environment research institute;
streamlining its PhD research by setting-up a graduate school for doctoral education;
co-founding an institute for metropolitan solutions in Amsterdam together with MIT and Wageningen University (targeted yearly budget: 25 M€);
implementing good research management;
increasing the scientific output;
managing a project portfolio with a yearly income of 1.5 M€ in research grants, 5 M€ in contract research and up to 2 M€ in other external funding;
ranking 3rd in the QS World University Rankings by Subject 2015 - Architecture / Built Environment.
Presented in this book is an overview of research data and policies, together with a selection of our finest research results: activities, organisations, facilities/assets, output, including indications of their use and recognition. Now it is not the time to become complacent. Instead, we should look ahead to face new academic and societal challenges and opportunities, knowing we can always do better.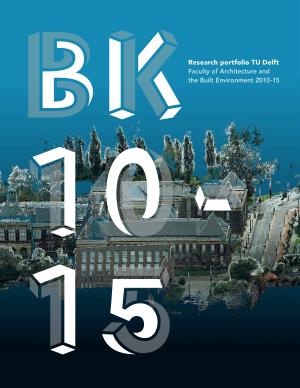 Details about this monograph
ISBN-13 (15)
978-94-92516-25-1
Date of first publication (11)
2016
Physical Dimensions
215,9mmx279,4mm
Copyright Notice
Copyright (c) 2016 Frank van der Hoeven (Volume editor)
Rights
This work is licensed under a Creative Commons Attribution 4.0 International License.