Hotterdam: How space is making Rotterdam warmer, how this affects the health of its inhabitants, and what can be done about it.
Synopsis
'Hotterdam' illustrates the heat related problems in a specific city in order to outline the links between the climate and the built environment. We do so on the basis of the realisation that the climate within a city behaves differently to outside, while the urban climate plays a key part in the well-being of the city's residents – Rotterdam in this case.
The objective of the Hotterdam research project is to gain a better understanding of urban heat in Rotterdam, and to use this as a basis for explaining the links between the health of the city's population and the features of its physical spaces that make it more or rather less warm.
This information will hopefully make the city of Rotterdam and its inhabitants more aware of and less susceptible to the health effects of heat waves. The insights into the urban heat island that were gained in this project are relevant for other cities in Holland (Amsterdam, The Hague) and abroad.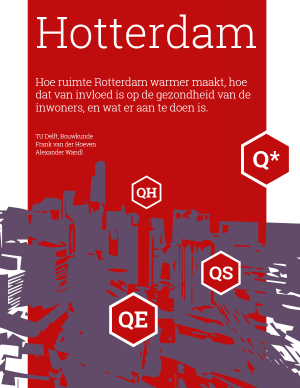 Details about this monograph
ISBN-13 (15)
978-94-6186-512-0
Date of first publication (11)
2015-08-26
Copyright Notice
Copyright (c) 2015 Frank van der Hoeven, Alexander Wandl (Author)
Rights
This work is licensed under a Creative Commons Attribution 4.0 International License.