Improving Institutions for Green Landscapes in Metropolitan Areas
Synopsis
Improving Institutions for Green Landscapes in Metropolitan Areas investigates how various institutions for green landscapes in metropolitan areas work, which problems hamper them, and how these institutions can be improved. Themes, theories and methods have been selected as a response to the case studies. The following themes were formulated: landscape and institutional developments, the market or government dilemma, the network or hierarchy dilemma, the relation between spatial planning and land development, and Slow Planning and incremental institutional change. Except from the Flemish Park Forest Ghent project, a reflection case, this research examined the Dutch situation and in particular the land consolidation and contemporary developments in Midden-Delfland, the cross-subsidy approach in the Bloemendalerpolder and the National Landscape Laag Holland. The most important methodological recommendation for research in the field of planning, law and economics is to use a multi-theory approach and to select methodology and theory based on the case study data.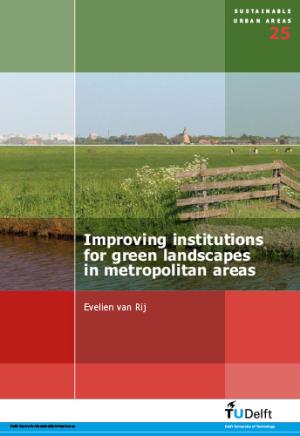 Published
September 12, 2017
Copyright Notice
Copyright (c) 2008 Evelien van Rij (Author)
License
This work is licensed under a Creative Commons Attribution 4.0 International License.
Details about this monograph
ISBN-13 (15)
978-1-58603-944-8
Date of first publication (11)
2008-12-12
Physical Dimensions
165mm x 240mm