On the Rationality of Borrowers' Behaviour: Comparing Risk Attitudes of Homeowners
Synopsis
'On the Rationality of Borrowers' Behaviour' was prompted by two observations: first, mortgage take-up amongst homeowners was fairly divergent across Europe, and second, the fact that this was seen by academic researchers as well as policymakers and financial authorities as an indication of fundamental differences in the risk attitudes of homeowners. Although the time and depth of the cycles differed from one European country to another, mortgage markets have grown in size, expanded in product variation and improved borrowers' accessibility to mortgage credit. However, this expanding range of mortgage opportunities significantly increases the search and information costs for a borrower, making it harder for him to find the mortgage with the most favourable cost-risk trade-off. Nonetheless, the research reveals that homeowners are still acting as rational customers, i.e. willing and able to choose the optimal mortgage. Meanwhile, the cross-country analysis in this study highlights the role of the institutions, household characteristics, and the structure of national mortgage markets as key elements in shaping the optimal mortgage for homeowners.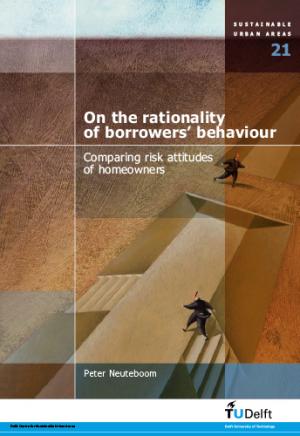 Published
September 11, 2017
Copyright Notice
Copyright (c) 2008 Peter Neuteboom (Author)
License
This work is licensed under a Creative Commons Attribution 4.0 International License.
Details about this monograph
ISBN-13 (15)
978-1-58603-918-9
Date of first publication (11)
2008-10-01
Physical Dimensions
165mm x 240mm