Synergy in Polycentric Urban Regions: Complementarity, Organising Capacity and Critical Mass
Synopsis
In understanding and explaining the functioning of cities, contemporary urban and regional studies attribute great significance to relationships between cities. This book focuses on relationships between cities in polycentric urban regions (PURs), which are regions containing proximate but distinct cities that are rather similar in size. This book explores whether there are synergies between cities in PURs. In doing so, several widespread assumptions with respect to PURs are questioned. Do cities constituting a PUR increasingly complement each other? Does a PUR provide a similar critical mass for supporting amenities as a monocentric city region? Does a network model of spatial organisation describe the spatial-functional structure of PURs more accurately than a central place model? The author develops theories on synergy in PURs and clarifies related concepts such as complementarity, regional organising capacity and critical mass. Drawing on empirical evidence from PURs in North West Europe, particularly the Randstad, it appears that PURs are often far from being more than the sum of the parts.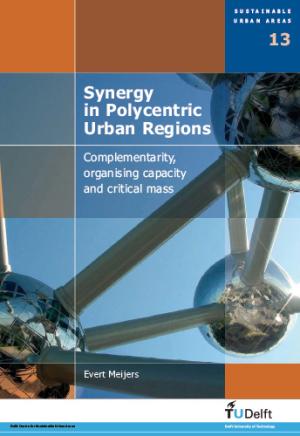 Published
September 11, 2017
Copyright Notice
Copyright (c) 2007 Evert Jan Meijers (Author)
License
This work is licensed under a Creative Commons Attribution 4.0 International License.
Details about this monograph
ISBN-13 (15)
978-1-58603-724-6
Date of first publication (11)
2007-03-13
Physical Dimensions
165mm x 240mm