Sustainable Neighbourhood Transformation
Synopsis
Urban renewal through the large-scale restructuring of post-war neighbourhoods is a major challenge throughout Europe in the decades ahead. Current urban restructuring programmes in the Netherlands focus on the demolition and replacement of the existing housing stock. The motivation behind this strategy is creating a better social mix between 'poor' and 'better-off' households, to improve the general quality of the housing stock and to create a financially viable restructuring programme. The general aim is to improve various aspects of sustainability in urban neighbourhoods. Are demolition and replacement strategies the most effective and efficient way to achieve this objective? In this book, we examine the effects of demolition and replacement strategies on sustainability from different perspectives. An economic perspective: the market position and the value of the neighbourhoods, a social perspective: the levels of social capital and residential stability, and an environmental perspective: the energy efficiency and the use of materials in restructuring strategies.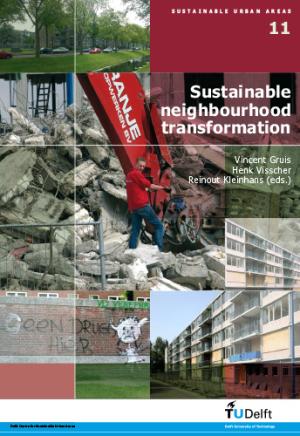 Published
September 11, 2017
Copyright Notice
Copyright (c) 2006 Vincent Gruis, Henk Visscher, Reinout Kleinhans (Author)
License
This work is licensed under a Creative Commons Attribution 4.0 International License.
Details about this monograph
ISBN-13 (15)
978-1-58603-718-5
Date of first publication (11)
2006-12-01
Physical Dimensions
165mm x 240mm