What Makes a City? Planning for 'Quality of Place': The Case of High-Speed Train Station Area Development
Synopsis
Urban quality is generally considered increasingly important for urban competitiveness. Nevertheless, large urban redevelopment schemes often fail to provide sufficient quality from a user's perspective. This study therefore investigates the role of urban quality in large-scale urban redevelopment, which is here elaborated in terms of Richard Florida's concept of quality of place. In a number of extensive case studies, it focuses on prestigious redevelopment projects around the high-speed rail stations in Amsterdam, Rotterdam and Lille. It provides an analysis of the role of urban quality in the development of these projects, as well as some insights in the applicability of quality of place in a wider Dutch context. In addition, the study advocates a more open and flexible planning process, based on a distinctly long-term perspective on urban quality.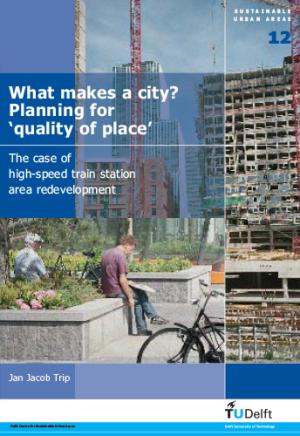 Published
September 11, 2017
Copyright Notice
Copyright (c) 2007 Jan Jacob Trip (Author)
License
This work is licensed under a Creative Commons Attribution 4.0 International License.
Details about this monograph
ISBN-13 (15)
978-1-58603-716-1
Date of first publication (11)
2007-03-20
Physical Dimensions
165mm x 240mm