Policies for Improving Energy Efficiency in the European Housing Stock
Synopsis
According to EC forecasts, if energy efficiency could be increased 1% annually until 2010, two-thirds of the potential energy saving in the EU could be achieved. This would comply with 40% of the EU's Kyoto obligation to reduce greenhouse gas emissions by 8% on the 1990 level by 2010-12, by cutting 200 million tonnes of CO2 emissions per year. Improving energy efficiency in existing buildings is often considered to be one of the most cost-effective ways of cutting carbon emissions. Current policy measures, however, seem to be decided with little reference to the specific needs of renovation in the housing sector instead of basing policy measures on detailed sets of requirements and actual costs. The research provides information for national governments in the EU on how to improve their sustainable building policies so as to increase carbon reductions in the existing housing stock. It addresses the question of the extent to which stronger government intervention is possible and necessary for circumnavigating barriers and the policy approaches that are likely to be feasible, effective cost-efficient and legitimate.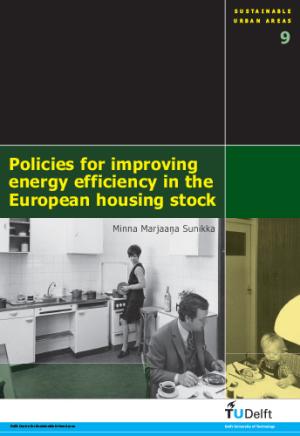 Published
September 11, 2017
Copyright Notice
Copyright (c) 2006 Minna Marjaana Sunikka (Author)
License
This work is licensed under a Creative Commons Attribution 4.0 International License.
Details about this monograph
ISBN-13 (15)
978-1-58603-649-2
Date of first publication (11)
2006-07-01
Physical Dimensions
165mm x 240mm