SPACERGY: Space-Energy Patterns for Smart Energy Infrastructures, Community Reciprocities and Related Governance
Synopsis
SPACERGY builds upon the need for planning authorities to develop new models to implement energy transition strategies in the urban environment, departing from the exploitation or reciprocity between space and energy systems. Several policies have been made by each EU nation, but effective and practical tools to guide the urban transformations towards a carbon-neutral future present several challenges. The first challenge is to confront long term changes in envisioning how a specific socio-cultural context can respond to the application of solutions for energy efficiency. Secondly, the engagement of communities in bottom-up approaches mainly includes the sphere of urban planning that underestimates the importance of relating spatial transformations with the energy performances generated in the urban environment. The third challenge regards the tools used for the assessment of the energy performance and the necessity of enlarging the scale in which energy demand is analyzed, from the scale of the building to that of the district. In this context, the project explores the role of mobility, spatial morphologies, infrastructural elements and local community participation in regards to the smart use of local resources. The project addresses a knowledge gap in relation to interactions and synergies between spatial programming, energy and mobility systems planning and stakeholder involvement necessary to improve models of development and governance of urban transformations.
Based on detailed spatial morphology and energy use modeling, SPACERGY develops new toolsets and guidelines necessary to advance the implementation of energy-efficient urban districts. New toolsets are tested in three urban areas under development in the cities of Zurich, Almere, and Bergen, acting as living laboratories for real-time research and action in collaboration with local stakeholders. The results of this research project support planners and decision-makers to facilitate the transition of their communities to more efficient, livable and thus prosperous urban environments.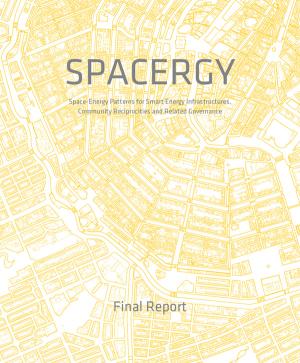 Published
October 21, 2019
Copyright Notice
Copyright (c) 2019 Daniela Maiullari, Martín Mosteiro Romero, Remco de Koning, Arjan van Timmeren, Akkelies van Nes, Arno Schlueter (Volume editor)
License
This work is licensed under a Creative Commons Attribution 4.0 International License.
Details about this monograph
ISBN-13 (15)
9789463662147
Date of first publication (11)
2019-10-01