Architectural Education In Times Of Uncertainty
Keywords:
architectural education, EAAE, TU Delft, circulair built environment, circularity
Synopsis
Architecture and, by extension, architectural education are severely challenged by the scale and magnitude as well as the complexity of current criticalities. The climate breakdown, the loss of biodiversity, and the impending resource depletion call for a radical rethinking of what is inherent to architecture, but also of how architecture relates to the economy, society, and nature. The certainties our profession has long relied upon are becoming less and less convincing. Technology alone seems unable to provide us with credible answers for our troubled present; a new paradigm is still at large, further contributing to an ever-growing sense of instability. What will the future look like? Uncertainty takes over as a condition of being while knowing that any decisions we make will be imperfect, just like our view of the world is imperfect. But should we account for uncertainty as a vulnerability? Or can uncertainty free us at last from our pre-established notions and biases towards the making of a new architecture that is informed by a completely different set of principles and values? How are architectural education and pedagogy then affected by this predicament?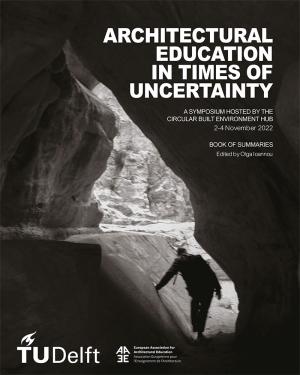 Downloads
Categories
License
This work is licensed under a Creative Commons Attribution 4.0 International License.
Details about this monograph
ISBN-13 (15)
9789463667050
Date of first publication (11)
2023-07-01
Physical Dimensions
207mm x 259mm