aE Journal 2023/2024
Keywords:
AE T, Architectural Engineering, TU Delft, Bouwkunde , Studio
Synopsis
Architectural Engineering Graduation Studio (aE Studio) started 15 years ago. It was intended as an architectural design studio for master student with a technical fascination. It started in 2008 from the department that was then still called Building Technology. Bouwkunde and bouwkunst coincide. If technology is the answer what is the design question? The basis is formed by optimal integration of climate design, structural design and building physics, including the increasingly strong developments from parametric design. Starting research from the perspective of the making or climatizing and then coming up with an assignment that anticipates current spatial issues. Lifting the world by devising innovative solutions designed across the scales and visualizing, presenting and discussing them from the perspective of an aEsthetic ingenuity.
Since the start of aE Studio, we have been accountable to the faculty community by publishing this journal every year. This is the thirteenth volume that is once again widely distributed within TU Delft and beyond. It is a platform for graduating students and an exchange tool for lecturers and researchers. Design research is presented at current locations on the basis of themes. aE always works together with external architects, engineering firms, government, builders and manufacturers of building components. We deliberately bring such parties into our faculty so that students, but also the creative industry can learn from each other. Working on integral innovative solutions that can stimulate the manufacturing industry. Addressing the complex sustainability issues at play. Anticipating the need to implement circularity in process and design product.
aE brings together many innovative aspects that a world in transition needs and which form a design challenge for new architects. We not only work with researchers and teachers from building technology, but also from management of the built environment. We look for entrepreneurial challenges and stimulate new architects to take responsibility for what they design.
And of course, we think across the scales. That is why we are proud of our collaborations with Landscape Architecture and Urbanism. We want to be able to optimally integrate nature, while harvesting water, food and energy in the built environment. We want to help thinking about how water problems can be optimally solved in the delta by making it an integral part of the
task. We want to get rid of twentieth century solutions that are no longer desired due to climate change, scarcity of materials or a lack of adaptability. The 21st century calls for new ways of thinking and design that must be thought through by new architects/engineers. We would like to share such new inspiring examples. That is why this journal is full of inspiration and design ideas for a more future-proof earth!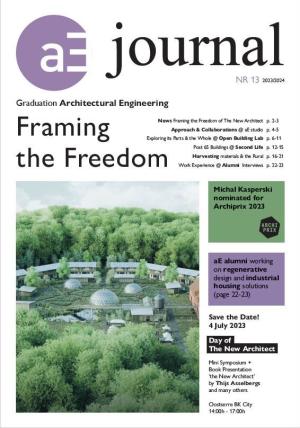 Downloads
Categories
License
This work is licensed under a Creative Commons Attribution 4.0 International License.