DASH 04 - The Residential Floor Plan: Standard and Ideal
Synopsis
This edition of DASH searches for about the best floor plan between standard and ideal. One that meets the (changing) needs of the resident, and is optimal for architects and real estate entrepreneurs. A housing that meets both individual needs, but also benefits from the production scale and technical advantages of standard housing. Is a merger of these requests possible?DASH investigates and comes up with new ideas.
Though mass customization has for some time been the magic word with which to bid farewell to the mass production of the twentieth century, it seems that standardized solutions are still the norm in everyday construction practice. In conservative construction industry, strict rules and limited budgets force architects to make the most of the available means in order to produce an ideal design.The Residential Floor Planfocuses on this dilemma faced by housing architects. The volume takes two different approaches: firstly, the quest for new typologies we are already familiar with from modern architecture and the welfare state; and second the typological invention, which by contrast proceeds from the conventions of existing practice in residential construction. The residential floor plan is the palette on which these different thrusts of development are preeminently visible.
Essays by Bart Goldhoorn, Mark Swenarton, Dorine van Hoogstraten and Dirk van den Heuvel examine the tradition of mass residential construction in the Netherlands and survey historical and current design practices in Great Britain, Eastern Europe and Russia. The plan documentation consists of a series of classic and less familiar projects from the Netherlands and beyond, including projects by Diener & Diener, Frits van Dongen, Kenneth Frampton, MVRDV, Adolf Rading, Hans Scharoun and Willem van Tijen.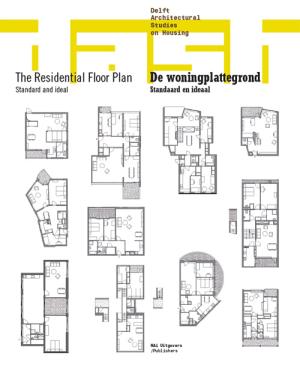 Categories
Details about this monograph
ISBN-13 (15)
9789056627577
Date of first publication (11)
2011-01-01
Physical Dimensions
226mm x 279mm