Spatial Building Typology - Vacant Heritage: Department Stores | V&D's: MSc3/4 AR3AH105 - Fall 2020-2021
Keywords:
V&D, department store, vacancy, vacant buildings, building typology
Synopsis
On 31 december 2015, the department store of Vroom & Dreesmann (V&D), which was founded in 1887, officially went bankrupt. This ended the rich history of a department store that had branches in many Dutch cities and towns.
This raises the question: what happens to the traditional twentieth century commercial areas in major Dutch cities in an era that everyone is shopping online? In the historic city centres of Haarlem, Leiden, Dordrecht and Amersfoort for example, many buildings are vacant because traditional retailing is almost impossible. For over a century, the use of the city centre was dictated by commercial activities yet nowadays shopping streets are empty. Shops and department stores are closed, leaving a desolate image. In 2016 V&D went bankrupt and all their buildings became vacant. The revival of Hudson's Bay for several V&D buildings was not successful either. These large buildings with clear corporate identities and the smaller retail shops are in urgent need of transformation to secure liveability. This research contributes to the broader question of Vacant Heritage: can you find indicators for building typologies that will become obsolete and are there general concepts for revitalisation?
In this book, eight different vacant department stores from the V&D will be analysed. All buildings are located in large or small cities throughout the Netherlands: Leiden, Alkmaar, Amsterdam, Haarlem, Amersfoort, Maastricht, Enschede and Dordrecht. These department stores were all developed within the historic city walls, in what we now call the historic centers.
The typological research for this book is linked to the Vacant Heritage studio. Traditional research methods into typologies in architecture almost always assume typologies based on functions. Typology = 'the study of types or the systematic classification of the types of something according to their common characteristics' (Wikipedia). However, as the function and use of the original buildings change nowadays, a different approach is needed to investigate building typologies. Instead of the functions, the space becomes central. Research into similarities and differences in the spatial characteristics of a collection of buildings, which were originally realized for one specific function (group), yields a series of spatial properties that can give direction to the possibilities for redesign. Spatial building typology = the study of types and systematic classification of the types of buildings according to their common spatial characteristics and qualities.
Over the years, various buildings originally designed for one specific function have been the subject of education and research at Heritage & Architecture (HA). As there are: churches, monasteries, department stores, museums, factory buildings for production, educational buildings, etc. The research builds on the research carried out by HA in the tradition of Building Analysis.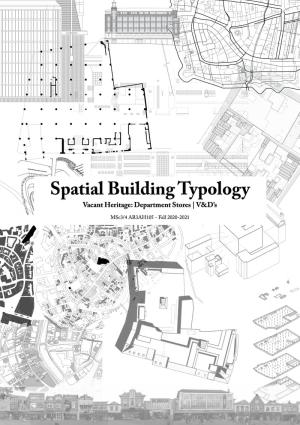 Downloads
Categories
Details about this monograph
Date of first publication (11)
2021-07-01
Physical Dimensions
210mm x 297mm