Waterfront Analysis and Design: Comparative Report of Beijing, Suzhou and Yinchuan
Keywords:
Waterfronts, China, Beijing, Suzhou, Yinchuan
Synopsis
Waterfront Analysis and Design Comparative Report of Beijing, Suzhou and Yinchuan systematically summarizes the research and planning cases. Conventional concepts and strategies concerning urban planning implemented in Beijing, Suzhou and Yinchuan have long been established, and the construction of many areas in these cities have been widely finished. Under such circumstances, based on analyses of the three cities and several typical cases of waterfront planning, this book breaks through the established conceptual constraints and delves into the commonalities and differences among the cases through systematic scientific approaches. On top of conducting the intensive research into urban waterfronts planning at levels of both basic theory and methodology, this book also presents specific practices of urban waterfront planning and design customized to the urban water system, as well as the layout and space of waterfront areas. By displaying how research findings can be applied into urban design, this book is of unique significance on value transmission.
The book is broken down into four chapters, namely Comparison, Beijing, Suzhou and Yinchuan. Comparing and researching the water-city relations of the three cities.
Chapter Comparison makes clear of the development characteristics of urban spatial structure based on changes of water systems in these cities with different geographical environments, and researches the patterns of urban spatial organization. Finally, the chapter summarizes the creating mode and focus of urban waterfronts under the effects of different natural environments, water networks and city landscapes.
Chapter Beijing is compiled jointly by Harbin Institute of Technology and China Architecture Design and Research Group. Led by Professor Suning Xu, the study is structured as the combination of "research", "judgment" and "design". Studying the historical changes of water-city relation in Beijing and comparing the water-city relation of world typical capitals with that of prominent Chinese ancient capitals. This chapter sets the overall goal for Beijing's waterfront development; The value system of the waterfront area is evaluated in 6 dimensions, including ecology, space, demand, history, economy and aesthetics, based on which the urban design strategy is crafted and verified with the design of typical nodes.
Chapter Suzhou is put together by Swiss Federal Institute of Technology in Lausanne, Iuav University of Venice, Tianjin University, Xi'an Jiaotong-Liverpool University in Suzhou and China Architecture Design and Research Group. At the macro level, the joint research team analyzed the spatial structure of Suzhou urban area, selected important urban waterfronts based on the comprehensive considerations of urban functions, different water network structures, ecological protection and urban landscapes, and proposed practical urban design strategy and guidance at various grades and of different types; At the micro level, dedicated to the objectives of "properly clustered water networks, water conservation, living along the water, open and sharing, and reflection of historical culture", the team offered key points for different urban waterfront designs.
Chapter Yinchuan is collectively compiled by Delft University of Technology, Xi'an University of Architecture and Technology, Ningxia University and China Architecture Design and Research Group. Adopting the RTD (research through design) method, in other words, further defining research questions through designing and exploring various possibilities and solutions, the joint research team attempted to identify comprehensive solutions at multiple levels: Yinchuan city as a whole, the urban areas where the waterfronts are located, and the waterfronts themselves; Jointly led by landscape architects and urban designers, the research of waterfront design in Yinchuan highlights the ecology-based analysis method and design strategy.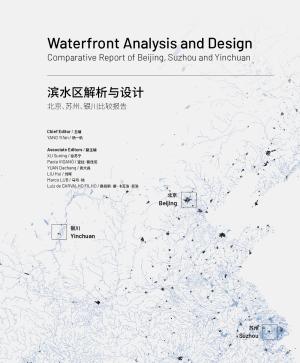 Downloads
Categories
Details about this monograph
ISBN-13 (15)
9789463663663
Date of first publication (11)
2021-07-01
Physical Dimensions
210mm x 254mm