Socio-Economic Segregation and Income Inequality: A Global Perspective
Synopsis
This book attempts to get a true global overview of trends in urban inequality and residential socio-economic segregation in a large number of cities all over the world. It investigates the link between income inequality and socio-economic residential segregation in 24 large urban regions in Africa, Asia, Australia, Europe, North America and South America. In many ways the book is a sequel to the earlier book "Socio-Economic Segregation in European Capital Cities" which focussed solely on trends in Europe. Although that book was very well received, readers also asked whether trends in Europe were representative for what is happening in the rest of the world. This new book is a direct response to that question and aims to be more globally representative.
The main outcome of this book is the proposal of a Global Segregation Thesis, which combines ideas of rising levels of inequality, rising levels of socio-economic segregation, and important changes in the social geography of cities. At the time of writing this preface, the world is still grappling with the global outbreak of COVID-19. Now the spread of the virus is slowing down in the Global North, the Global South is hit very hard. In response to the spread of the virus, unprecedented measures were taken, having a huge impact on the world economy. It is widely expected that these measures will lead to a deep economic crisis, which will hit those who are the most vulnerable hardest. Some of the chapters in this book mention the COVID-19 crisis, and it is expected that this crisis will speed up the increase in inequality, both globally and locally, leading to an accelerated growth in socio-economic segregation in cities.
This book would not have been possible without the generous contributions from author teams from all over the world. We are very grateful for their generosity and their contributions. Much of the editorial time invested in this book was covered by funding from the European Research Council under the European Union's Seventh Framework Program (FP/2007-2013)/ERC Grant Agreement n.615159 (ERC Consolidator Grant DEPRIVEDHOODS, Socio-spatial inequality, deprived neighbourhoods and neighbourhood effects); from the Estonian Research Council (PUT PRG306, Infotechnological Mobility Laboratory, RITA-Ränne), and from TU Delft where Tiit Tammaru was a visiting professor in 2018.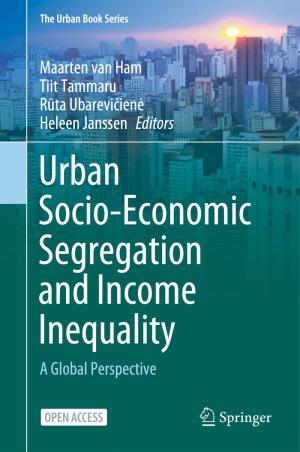 Downloads
Categories
Details about this monograph
ISBN-13 (15)
9783030645687
Date of first publication (11)
2021-03-01
Physical Dimensions
155mm x 235mm