Anchoring the design process: A framework to make the designerly way of thinking explicit in architectural design education
Synopsis
This thesis proposes a framework to address the design process in design education. Building upon the assumption that teachers, being professional designers, do not discuss the design process in the architectural design studio and do not have a vocabulary to do so, five generic elements or anchor points are defined which represent the basic design skills. The validity of the framework and the assumption is tested respectively in interviews with a variety of designers and in observations of dialogues between teachers and students. In the final test the design process is addressed in the design studio: the first experiences show that students' understanding and self-efficacy may increase. The five elements enable teachers and students to address the designerly attitude. The way designers reason consist of: (1) experimentation; an experimentation-based way of thinking; how to explore and reflect, (2) the frame of reference; a knowledge-based way of thinking; how to work with common and proven 'professional' knowledge, and (3) the guiding theme; a value-based way of thinking; how to take a position in the design process. Next to that, (4) the laboratory is the (visual) language or set of means designers use to think designerly, and (5) the domains are the playing field of the designer, the product aspects s/he should address.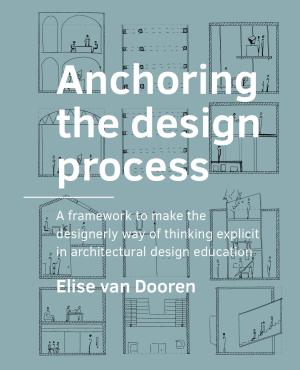 Published
October 17, 2020
Copyright Notice
Copyright (c) 2020 Elise van Dooren (Author)
License
This work is licensed under a Creative Commons Attribution 4.0 International License.
Details about this monograph
ISBN-13 (15)
9789463662994
Date of first publication (11)
2020-10-01