Urban Renewal Decision- Making in China: Stakeholders, Process, and System Improvement
Synopsis
To meet the growing rigid demand of urban housing, urban renewal has played a significant role, which significantly promotes the urban prosperity in China. However, at the same time, many problems occurred through large-scale urban renewal projects. To avoid unintended consequences that occurred in urban renewal, how these decisions were made can be one key focus. To better achieve the goal of sustainability, this research aims to deepen the understanding of urban renewal decision-making in China and contribute to recommend strategies to improve the system. Based on the participatory decision-making theory and the characteristics of urban renewal, a conceptual framework is built to achieve the aim of this research. According to the research framework, this research firstly conducted an empirical study of stakeholders' expectations in urban renewal projects. Eighteen factors are identified and compared among the main stakeholder groups. Secondly, this research explores the stakeholders and their participation in the decision-making of urban renewal in China. Stakeholder Analysis and Social Network Analysis are complemented as the research methodology. In the third step, transaction costs theory is adopted to improve the understanding of urban renewal decision-making process in China. Based on the results of the above three steps, the last step of this research systematically determines a set of strategies for improving urban renewal decision-making in China by adopting the Analytic Network Process. The findings of this research add new knowledge on the exploration of the decision-making of public projects and can be directly adopted by the authority in practice.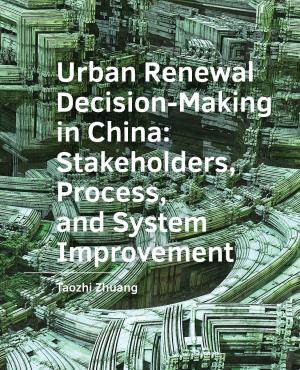 Published
September 4, 2020
Copyright Notice
Copyright (c) 2020 Taozhi Zhuang (Author)
License
This work is licensed under a Creative Commons Attribution 4.0 International License.
Details about this monograph
ISBN-13 (15)
9789463663120
Date of first publication (11)
2020-09-01