Architecture & Urban Design–Amsterdam and Boston: MSc 2 Elective Design Studio | AR0067 | Spring 2018—2019
Synopsis
Massive urbanization puts pressure on public space and demands new programs along with alternative gathering places such as public interior spaces and a variety of forms of collective spaces. Moreover, in the rapidly changing city, infrastructure and mobility remain of vital importance. A coevolving diversity of program cannot be planned, but interventions in the city need constantly to be grounded on sharp design approaches to respond adequately to the necessities of the time–while being environmentally sustainable, given the available resources.
In general, infrastructure, mobility, and public life manifest themselves in various forms as carriers of such urban development. Design experiments, as put forward in this book, show how to work with continuously changing urban conditions, with mobility transforming cities whilst with public spaces taking various forms, with programs which hybridize, and with new technologies to keep up with the urban dynamics. Given these themes, designs should carry awareness of the inclusiveness and accessibility of various systems and places, facilities, and technologies. Spatially this means questioning how to keep the city open and connected, attractive, and livable.
In the interdisciplinary MSc II Design Studio Architecture & Urban Design, students of the master tracks Architecture, Urbanism and Landscape Architecture of the Faculty of Architecture and the Built Environment work closely together. The integrative approach of this graduate course setting allows the students to examine urban space as architectural space and architectural space as urban space. Through an experimental design method, developed during the 2018 national research project Stad van de Toekomst,1 the studio is founded on the interest in the intervention in the built environment and its immediate effect on architecture and urban design. The global framework of the Stad van de Toekomst project is directly projected on Amsterdam Sloterdijk Station and Boston South Station areas, compressed and applied to this ten-week graduate course.
Taken from a wider angle, the project is motivated by urgent social as well as local tasks in the urban areas, varying from housing demand, social inclusiveness, new economy, climate adaptation, and the like, taking into account the transitions in energy, mobility, circularity, and digitization. This echoes through in the central question of the Stad van de Toekomst project: How can we design and develop a transformation area in an integral way into an attractive and future-proof urban environment? In addition particularly, the project is motivated by the major system transitions impacting on societal tasks effectively desiring progressive urbanization in the first place.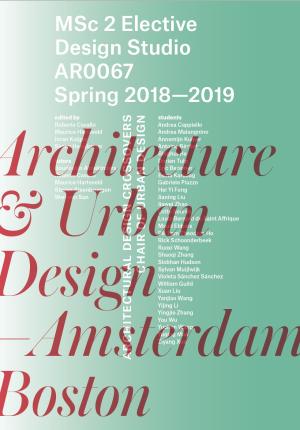 Downloads
Categories
Details about this monograph
ISBN-13 (15)
9789463662918
Date of first publication (11)
2020-07-01
Physical Dimensions
158mm x 225mm