Individually controlled noise reducing devices to improve IEQ in classrooms of primary schools
Synopsis
It is well-known that the indoor environmental quality (IEQ) at schools affects the health, comfort and performance of school children. Considering the need for a more effective way to improve both the IEQ in primary school classrooms and children's satisfaction, along with the positive potential of individual control, this thesis aimed to propose a new way - individual control - to improve the IEQ in classrooms of primary schools and to increase children's satisfaction in the Netherlands.
First the main IEQ problem in classrooms as well as IEQ perceptions and preferences of the school children were identified through literature and field studies. The outcome showed that noise was the main IEQ problem in classrooms of Dutch primary schools, children could be clustered in according to their IEQ perceptions and preferences, and the reported IEQ-improving actions of the teachers could not effectively improve the IEQ for each child.
As a follow-up, lab studies were performed in the SenseLab to explore the effect of background sound on children's sound perception and performance Together with the outcome of the field studies, results suggested that individual control is a better way to improve IEQ in classrooms.
Therefore, to address the main problem — noise - in classrooms, an individually controlled noisereducing device was designed, prototyped and tested with school children in the SenseLab. The results obtained from the simulations, measurements, and children's feedback on the prototype of the device, demonstrated the feasibility of such devices in classrooms at primary schools.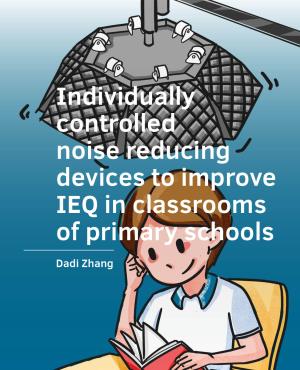 Downloads
Categories
Details about this monograph
ISBN-13 (15)
9789463662871
Date of first publication (11)
2020-07-01