Securing Healthy Circular Material Flows In The Built Environment: The Case Of Indoor Partitioning
Synopsis
Multi-family buildings usually have a fixed subdivision in units with standard layouts. However, households are all different and change over time, as so do their needs and desires. With this in mind, the Open Building concept, which originated in the 1960s, proposed two levels of intervention and decision-making: the (collective) 'support' and (individual) 'infill'. Although the Open Building approach has been embraced conceptually, with a new wave of interest in the Netherlands in recent years, it is remarkably overlooked in the actual design and construction of housing. The current attention for Circular Building puts, once again, the spotlight on Open Building. This renewed attention is due to the shared benefits around flexibility, and as such Circular Building and Open Building are two sides of the same coin. However, there is a big difference between accommodating unforeseen use of space and accommodating foreseen circularity-conditions for material management. Moreover, thus far little attention has been paid to residential user perspectives or the operational processes of Circular Building product and material cycles.
Securing healthy circular material flows in the built environment cannot be the objective of one industry, let alone one organisation, but reshuffles whole value networks. This doctoral research adopts multiple perspectives and cuts through different scales and disciplines to derive criteria for indoor partitioning, with an emphasis on user health and well-being, flexibility and circularity. Although focused on partitioning, the findings can be applied to other components, such as kitchen cabinets, furniture, stairs, or to the interior side-sheeting and insulation of walls and ceilings in energy renovations.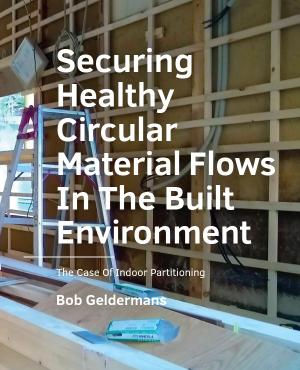 Copyright Notice
Copyright (c) 2020 Bob Geldermans (Author)
License
This work is licensed under a Creative Commons Attribution 4.0 International License.
Details about this monograph
ISBN-13 (15)
9789463662758
Date of first publication (11)
2020-06-01