Visibility, democratic public space and socially inclusive cities: The presence and changes of Turkish amenities in Amsterdam
Synopsis
This research introduces the concept of visibility as a useful tool to assess the democratic features of public spaces. We understand democratic public spaces as open spaces, which are accessible to all and allow different cultural expressions for individuals and groups. The concept of visibility refers to the visual perception of the observable features of distinctive urban groups in public space, which give evidence of their lived experiences, and how they engage with, shape, and construct public space in everyday life. The main assumption of the study is that the visibility of distinctive urban groups on the street manifests the rights of these groups to participate in the public life of the city, which is a key feature of a democratic public space. Consequently, the presence and changes in the visibility of urban groups in public space is a highly political issue, which raises concerns in relation to just or unjust urban conditions.
Open and democratic public spaces are an asset to achieve socially inclusive cities, recognized as such in academic and policy circles. However, the present political and economic context has turned public spaces into a tool for the branding and marketing of cities. Public space is increasingly designed and geared to attract tourists and higher-income groups, leading to trends toward the commodification of urban development. Such trends discourage the presence in, and uses of, public space by some groups, contributing to the erosion of key features of democratic public spaces.
The urban literature gives useful indications about the observable qualities of democratic public spaces, but their tangible and physical aspects have not been sufficiently studied in the urban design and planning literature. Furthermore, little attention has been given to the precise effects that urban transformations may have on the democratic features of public spaces, or on their implications for the design and planning of socially inclusive cities. Consequently, the main objective of this research is to advance knowledge about the democratic features of public space that promote socially inclusive neighbourhoods and cities.
The approach considers the visibility of commercial and communal amenities as a proxy for the presence and appropriation of public space by immigrant groups through their distinctive signs, languages, and uses. The analysed and documented the recent changes in the visibility of Turkish amenities in the streets of Amsterdam in the context of urban transformations in the period between 2007 and 2016. The methodology of the research included deskwork and fieldwork. The former included theory review and identification of the policy context. The latter included primary data collection about the immigrant amenities' spatial and social characteristics, mapping of the presence and changes of the amenities in two selected streets, and finally, analyses, synthesis and interpretation of the findings.
Two streets located in the inner-city (Javastraat) and the outskirts (Burgemeester de Vlugtlaan) of Amsterdam were selected as case-study, in base of their location; demographic trends; and type of users. Their empirical examination was useful to appraise and document the presence and changes of Turkish amenities in these streets during the studied period.
There are five major findings in this research. First, visibility can be operationalized by studying the spatial and social characteristics of immigrant amenities in public space. Measuring and documenting the spatial (at city and neighbourhood level) and social (social life of parochial and public realm) characteristics of immigrant amenities, the visibility of culturally distinctive groups in public space can be compared in a synchronic and diachronic way. This constitutes an innovative approach to the empirical assessment of public space, which complements statistical and quantitative approaches to public space. A longitudinal analysis of these changes then offers a better understanding of the relationship of these changes with the corresponding urban policies and trends.
Second, immigrant neighbourhoods and their commercial amenities have been significantly affected by the commercial and residential gentrification of innercity immigrant neighbourhoods in Amsterdam. These trends have been the result of a gradual shift from a social democratic towards a liberal welfare regime in the Netherlands since the 1980s, which has strongly influenced successive national and city level urban policies and strategies. Since then, Amsterdam urban renewal and housing policies have evolved significantly from the 'building for the neighbourhood' approach towards a market-oriented approach.
Third, the social characteristics of immigrant amenities – related to their capacity to promote social contacts within the immigrant and larger community – are different for commercial and communal amenities. The former are more open, and therefore more visible in public space. The location-related spatial characteristics vary for inner-city/outskirts and main street/back streets locations. Inner city and main street locations are more visible for a broader public. Other spatial characteristics that contribute to a greater visibility of immigrant amenities are high levels of legibility; personalisation; and robustness.
Fourth, the visibility of distinctive urban groups in public space – linked to their participation in public life – is a strong indication of the socio-cultural inclusion of these groups into the society. Taking that into account, the decreasing visibility of Turkish amenities found in Javastraat during the 2007-2016 period has produced a negative impact on the socio-cultural inclusion of Turkish immigrants in Amsterdam.
Fifth, the decreasing visibility of immigrant groups has detrimental consequences for shaping democratic public spaces and for promoting urban justice principles, specifically from the perspectives of diversity and equity. Diverse public spaces welcome urban groups from different social, cultural and economic backgrounds. Equity refers to the accessibility of public spaces – both physically and perceptually – for different groups.
The overall conclusion is that visibility in public space can provide solid evidence of the most important aspects of democratic streets, which are difficult to obtain through conventional statistical methods. Even though this study focused on immigrant amenities (used as a proxy), the conclusions can be broadened to include other distinctive urban groups, such as sexual minorities, and vulnerable groups, as well as other forms of visibility such as festivals, parades and events.
Visibility can be a valuable tool for ex-ante and ex-post evaluations of the democratic character of streets to inform designers, researchers and policy makers about the impact of the proposed or finished interventions. It would be especially valuable in cases of profound neighbourhood transformation processes, which modify the demographic profile of a neighbourhood.
Finally, training and education of designers and planners of public space should incorporate visibility as an important concept to examine the diversity and vitality features of public space, in order to promote democratic streets and more socially inclusive cities. Neighbourhood visions and development plans should take into account the role of the presence of distinctive urban groups in public life to promote the sociocultural inclusion of distinctive urban groups.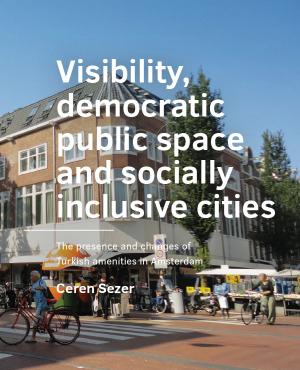 Published
February 14, 2020
Copyright Notice
Copyright (c) 2020 Ceren Sezer (Author)
License
This work is licensed under a Creative Commons Attribution 4.0 International License.
Details about this monograph
ISBN-13 (15)
9789463662543
Date of first publication (11)
2020-02-01