The Hidden School - EAAE Annual Conference 2019, Zagreb: Book of Abstracts
Keywords:
EAAE, architecture, Zagreb, conference
Synopsis
The EAAE Annual Conference of 2019 is titled 'The Hidden School', aiming to discuss an architecture school's true character, the substance and the quality of architectural education in the broadest sense, and that which is beyond the stated curricula, yet – whether concretely manifested or subliminally perceived – embodies the culture of the school.
The Hidden School can be observed through a range of tacit aspects or conspicuous specificities which make the educational path a unique one. It is the content that can be embedded within the syllabus, learned informally, personified by educators, the attributes and activities of students, or the spaces it takes place in. Bearing this in mind, reading between the curricular lines is crucial in evaluation, but is it possible to develop tools for the assessment of the 'hidden'? If the hidden school exists in parallel or as a background process, a self-generated search for fundamental answers, and its interpretation, manifestation or legibility has a multitude of facets, how can these aspects be captured?
The conference, hosted in 2019 by the Faculty of Architecture in Zagreb, focuses upon the subliminal quality of architectural education, that which is beyond the stated curricula and is hard to document through quality evaluation procedures. It can be observed through several indicative aspects, often contributing to the identification of what makes the 'true' spirit or substantial quality of the school and uniqueness or peculiarity of its educational path. It can also be the tacit meaning situated between the lines of the syllabus or generated by the students that contribute to it and the educators that personify it, the various shapes of informal learning, or the spaces it takes place in.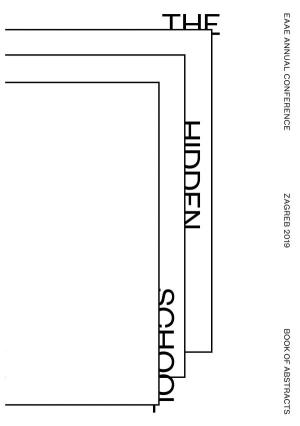 Downloads
Categories
Details about the available publication format: Download PDF
ISBN-13 (15)
9789463661966
Date of first publication (11)
2020-01-01
Physical Dimensions
148mm x 210mm x 19mm