Landscape Strategies in Architecture
Keywords:
Peter Eisenman, SANAA, OMA, Landscape Architecture, Design Strategies, architecture
Synopsis
The central question and purpose of the thesis is to understand how landscape as a design concept is changing our understanding of architecture. It explores the ways in which landscape is relevant for design strategies in architecture.
Buildings that have been designed like landscapes have become a topic in contemporary architecture and in the recent literature about it. The apparent distinction between architecture and landscape is questioned in exemplary theoretical works and building designs with increasing interest in landscape as a phenomenon of contemporary architecture.
To understand this phenomenon this thesis first explores the term of landscape and its design. The introduction focuses on the exploration of the idea of landscape and how it is applicable in architectural design. Strategies of landscape design as they are discussed in contemporary landscape architecture are defined and illustrated with specific examples. This view is contrasted with the idea of nature in architecture.
Architecture's concepts of nature reveal some crucial problems that lead to the polarity of 'wild' nature and 'human' architecture. With a critique of these common architectural theories and within the methodological differentiation the thesis reveals the necessity of research through analysis of landscape spatial composition in architecture.
The core of this thesis is three case studies of architectural designs that approach a building like a landscape. A selection of analytical techniques is applied to key cases in three central chapters. The main analytical model for landscape architectural composition that Steenbergen and Reh (2003) developed for the European Gardens of the Renaissance, Baroque and Enlightenment is applied as a drawing analysis of the formal composition of three selected contemporary architectural projects in a period from 1992 to 2015. Each of the three building designs is studied with the same four-layer method of design analysis. In conjunction with this comparative analysis, a project specific method that reveals unique aspects of each design has been developed.
The first case is OMA's unbuilt Jussieu design for two university libraries in Paris. In 1992 Dutch architect Rem Koolhaas and his collaborators at OMA proposed the Jussieu project at a turning point of the discipline, where new forms of architecture with landscape design strategies were being explored. Though this project has not been realised, this thesis makes it possible to describe the building in a guided walk-through. This visualisation of the design as it could have looked if built is also the specific analytical method chosen for this example.
The second case, the Rolex Learning Centre at EPF Lausanne, has been clearly declared 'landscape' as architecture by its designers. This competition winning design from 2004 and opened in 2010 is the largest scale international building of Japanese Architects Kazuyo Sejima and Ryue Nishizawa (SANAA). The specific analytical method used for this case is a visual space analysis of the project using 3D-isovists.
The third case is the City of Culture of Galicia in Santiago de Compostela by American architect Peter Eisenman. This project was initially designed in 1999 in a process of layering - in principle, similar to the layer model analysis of this thesis. However, the four tenets of the thesis layer model - ground form, spatial form, metaphorical form and programmatic form - will alter the reading of this project. This execution of the giant public project of "City of Culture" was interrupted half-way in 2015, with great political difficulties fo Galicia. The specific analytical method used for this case is an experiment that uses the ruins of unbuilt architecture as the base for a landscape architectural design. This design of a temporary garden mimics the design principles of architect Peter Eisenman. This experiment shows that landscape strategies developed for the design of a building can be applied in reverse for designed landscapes.
In conclusion, this thesis will compare the three case studies of architectural designs with each other. While some design instruments, strategies and methods are specific, others are commonly applied in several or all of the projects.
In a broader scope, the analysis is transposed into the greater societal and theoretical realm to explore whether landscape design strategies change architecture. For the discipline of architecture in general, the thesis explores how far landscape could lead the profession further as a new concept to build a sustainable human environment. Evoking potential applications and the reach of landscape in architecture in the perspective of future development, the thesis ultimately discusses unexplored potentials for landscape design strategies in the architectural discipline.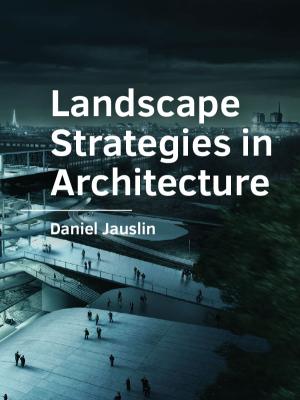 Downloads
Categories
Details about this monograph
ISBN-13 (15)
9789463662369
Date of first publication (11)
2019-12-01