Reflections on Urban, Regional and National Space - Three Essays: Nishiyama Uzo
Synopsis
Nishiyama Uzo-, educated as an architect between 1930 and 1933, was a key figure in Japanese urban planning. He was a prolific writer who influenced a whole generation of Japanese urban planners and his interpretations of foreign planning and local practice still influence Japanese planning theory and practice today.
Nishiyama's first publications date to the 1930s, and his last ones appeared in the 1990s, spanning a period of enormous political and spatial changes. The three articles translated here, originally published in the 1940s in professional magazines, show how Nishiyama developed his theoretical models based on a social approach to architecture and planning, focusing on land use and land control rather than aesthetic preferences. They provide insight into Nishiyama's early thinking, his analysis of foreign examples, his reflection on large-scale regional and national spatial organization, and his architectural and urban visions, providing a remarkable and fascinating insight into the state of planning in Japan.
These texts call scholarly attention to the writing of a global planning history and invite the reader to engage with a major figure in planning who is largely unknown outside Japan; to reconsider Japanese planning history; and to work towards a truly global planning history. How does Nishiyama compare to the great urban planners of the past in the West, such as Patrick Geddes, Lewis Mumford, or Werner Hegemann? Many more translations will be necessary to answer this question.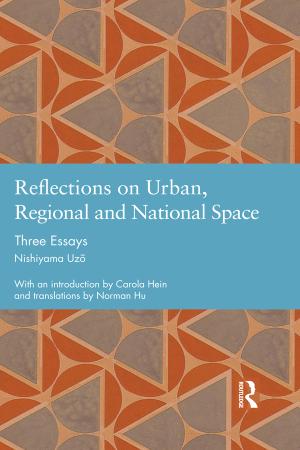 Downloads
Categories
Details about this monograph
ISBN-13 (15)
9781138890367