The Boston Contest of 1944: Prize Winning Programs
Synopsis
During World War II, many European government authorities and planners believed that the damage caused by bombing constituted a great opportunity to transform their cities. Even as the fighting continued, a great many plans were drawn up, and this has been the subject of much scholarship. However, what is often overlooked is wartime planning in cities not damaged in the war. United States cities were not bombed, but in Boston, one of its leading cities, the last years of the war brought a major effort to encourage both new plans to modernize the city and also means of implementing those plans.
The wartime initiative to transform Boston had several sources. Both the Great Depression and the war had led to major measures by the federal government to try to deal with fiscal challenges and the need for new housing for the many people who relocated during the war because of the creation of new industries to help the war effort. Boston hoped it could benefit from these measures. Moreover, in the late 1930s, Harvard University had become a key residence for figures important in modernist planning, including Joseph Hudnut, Walter Gropius, and Martin Wagner.
These factors combined in 1944 to inspire what was called The Boston Contest. Its goal was to suggest solutions to many problems found in the metropolitan area. These issues included commercial and industrial developments, housing, transportation, education, recreation, welfare, urban finances, metropolitan government, and citizen participation in solving problems. This book, published in 1945 contains the top 3 prize winning entries and excerpts from 9 of the other nearly 100 entries. It gives a fascinating insight into the developing ideas of urban planning in the United States at a critical juncture.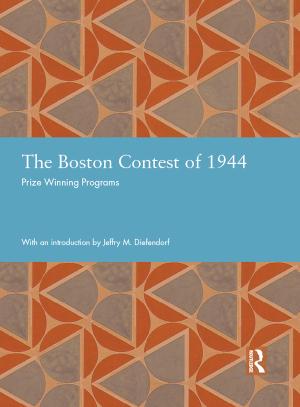 Categories
Details about this monograph
ISBN-13 (15)
9781138780415