Traffic in Towns - A Study of the Long Term Problems of Traffic in Urban Areas: Colin Buchanan
Synopsis
Traffic in Towns, also known as the Buchanan report, is regarded as one of the most influential planning documents of the twentieth century. The report reflected mounting concern about the impact on Britain's towns and cities of rapid growth in the ownership and use of motor vehicles. Its purpose was to evaluate policy options for reducing the threat of traffic congestion to urban circulation and quality of life.
Two main conclusions were drawn from the report: firstly, the need for large-scale reconstruction to make Britain's cities fit for the 'motor age', including split-level megastructures and urban motorways; and secondly, the simultaneous need to preserve parts of the city, especially 'environmental areas' or areas with limited motor access.
In Britain, successive governments drew back from implementing the full recommendations of the Study Group, despite initial cross-party support. The prohibitive cost of city-centre redevelopment and motorway construction meant a 'comprehensive' solution to the problem of urban traffic on Buchanan lines was never attempted. However, local authorities in a variety of British cities, such as Glasgow, Leicester and Leeds took up aspects of the report. Internationally, too, the report had a major impact in countries such as Sweden, Italy and Australia.
In the longer term, the influence of the report may be best judged by the incremental changes it set in train such as pedestrianization of city centres, traffic calming and other measures linked to Buchanan's concept of 'environmental areas'. In focusing attention on the effects of mass motorization on the urban environment Traffic in Towns set the terms of debate for a generation, pre-figuring recent discussion about the car and urban sustainability.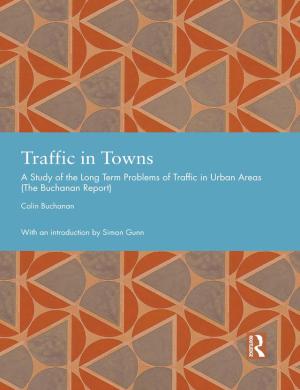 Categories
Details about this monograph
ISBN-13 (15)
9781138775992