New ideals in the Planning of Cities, Towns and Villages: John Nolen
Synopsis
John Nolen's New Ideals in the Planning of Cities, Towns and Villages is the most thorough assessment of city planning written by an American practitioner before 1920. It records the interplay of urban reform in Europe and the United States, the rise of the planning expert, the design of new towns, and the technique for directing urban expansion on systematic lines. Most importantly, it documents the blueprint for investing the "peace dividend" of the Great War to make urban life "more fit for democracy."
Written for men fighting to make the world safe for democracy, New Ideals revealed how the domestic part of the peace program could justify their sacrifice. The federal wartime housing initiative had improved the living conditions of industrial workers and the same public regulation and control of the layout and character of residential neighborhoods could provide what "men of service expect to find on their return, a new and better type of workman's home."
While New Ideals strained towards the utopian, experience tempered Nolen's expectations and the high aims of the book were not immediately realized in a post-war society seeking a return to pre-war normalcy. However, in the last decade, Nolen's planned communities have been closely studied as the demand for pedestrian-oriented neighborhoods set on sustainable lines has moved from novelty to policy. New Ideals is an important text not only for its design template, but also its aspirations. Nolen's call to "make cities that will serve the needs—physical, economic, and spiritual—of all people" lays at the heart of the city planning profession and the lessons Nolen imparted inform a new generation planning cities to be both resilient and just.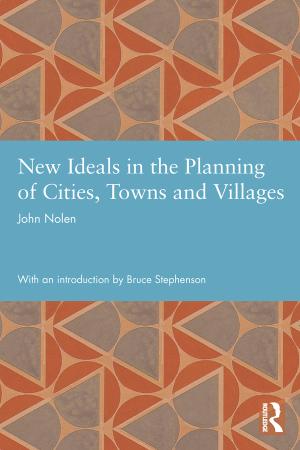 Copyright Notice
Copyright (c) 2015 Bruce Stephenson (Volume editor)
License
This work is licensed under a Creative Commons Attribution 4.0 International License.
Details about this monograph
ISBN-13 (15)
9780415839280