Village Housing in the Tropics - With Special Reference to West Africa: Jane Drew and Maxwell Fry in collaboration with Harry L. Ford
Synopsis
Tropical Architecture, although now a highly contested and debated term, is the name given to European modern architecture that has been modified to suit the climatic and sometimes cultural context of hot countries. These hot countries were labelled 'the tropics' and were often European colonies, or countries that had recently won their independence. Fry & Drew's book, written on the threshold of the end of the British Empire, was one of the first publications to offer practical advice to architects working in 'the tropics', based on the empirical studies they conducted whilst based in British West Africa during the Second World War. The book with its numerous illustrations, plans and easy to follow explanations became a key manual for all architects working in hot climates, and in particular those tasked with designing dwellings and small town plans.
A lthough the Royal Engineers and Schools of Tropical Medicine had long been designing and campaigning for better planning, improved sanitation and had for example developed methods of cross—ventilation, this book became an instant hit.
'Tropical Architecture' suddenly bloomed into its own distinct canon, and by 1955 the Architectural Association had set up a course specialising in tropical architecture, led for a short time by Fry.
Village Housing in the Tropics had a significant impact when it was written on a profession that had had little guidance on working in hot climates and on architecture students and universities who began to modify their courses to accommodate different conditions. Although from a post—colonial perspective many scholars now associate this architecture as being a continuation of the Imperial mission, this does not reduce the significance of the publication. Indeed, Tropical Architecture is regarded as being the forerunner to 'green architecture', developing passive low-energy buildings that are tailored to suit their climate and built with local materials.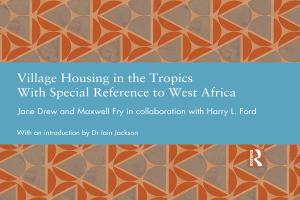 Downloads
Categories
Details about this monograph
ISBN-13 (15)
9780415645072