When We Build Again: The Bournville Village Trust
Synopsis
Like many UK cities Birmingham was heavily bombed during the Second World War and, as with so many bombed British cities, and many un-bombed ones that jumped onto the re-planning bandwagon, there was a clear imperative to reconstruct. But Birmingham was atypical in how it went about this. The city had begun planning in the mid-1930s, principally to replace vast quantities of slum housing — and there had been suggestions about ring roads even from the time of the First World War. So plans were available virtually ready to go, and were approved by a private Act of Parliament in 1946.
Yet within Birmingham there were individuals and organisations with a great interest and influence in planning matters. This followed a significant and long-standing local tradition from the Chamberlain family to Nettlefold's pioneering work on planning and housing at the start of the twentieth century. Prominent amongst these was the Cadbury family and the Bournville Village Trust, and immediately after the bomb damage the Trust published the book When We Build Again.
This was immediately influential in several respects, as contemporary reviews and on-going citations demonstrate. It highlighted some less-palatable truths about conditions in the city and more widely, with ideas about what might be done. To modern eyes some of these are radical — for example, the wholesale redevelopment of the Jewellery Quarter, an area which was recently proposed for World Heritage status. The origins of the derided post-war comprehensive clearance approach lie here. Further, it used innovative and striking graphics to communicate statistical information to lay readers, including the use of eye-catching photography of places and, particularly, people.
Also included in this volume is a facsimile of a second Bournville Trust publication from 1955, Birmingham — Fifty Years On. This less famous but equally important publication grew from a frustration at the slow pace of post-war reconstruction, and envisaged what the city would look like half a century later.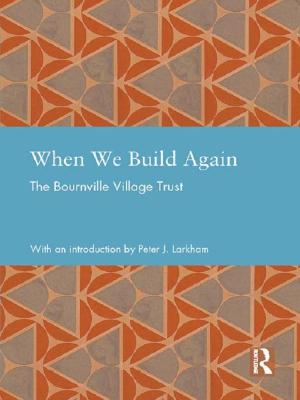 Details about this monograph
ISBN-13 (15)
9780415815673