The Anatomy of the Village: Thomas Sharp
Synopsis
Thomas Sharp was a key figure in mid-C20 British planning whose renown stems from two periods in his career. First, he came to attention as a polemical writer in the 1930s on planning issues, including as a virulent opponent of garden cities. His prose tempered over time and this phase perhaps culminated in Town Planning, first published in 1940 and reputed to have sold over 250,000 copies. Subsequently the plans he produced for historic towns in the 1940s, such as Oxford, were very well known and were influential in developing ideas of townscape.
The Anatomy of the Village originated from a brief phase between these two periods when Sharp was seconded during the early war years to work for the Ministry of Town and Country Planning. Started as an official manual on village planning, it followed on from the Scott Report, for which Sharp had been one of the Secretaries. When the Ministry decided not to proceed with the publication, Sharp himself published it 1946. The Anatomy of the Village became one of Sharp's best known works, with lucid prose and generous illustration by photograph and beautiful linedrawings of village plans. The aim of The Anatomy of the Village was to set out the main principles of village planning, especially in relation to physical design.
Anatomy became a key text in thinking about villages in the post-war period; a period when there was great concern that settlements should develop in more sensitive ways than inter-war ribbon and suburban development patterns. The problems of poor quality development, unrelated to settlement form, was to continue to stimulate books such as Lionel Brett's Landscape in Distress and campaigns from the Architectural Review. Reading the text today it still has much to offer: while some of its assumptions about the level of services a village might support clearly belong to another era, its beautiful and simple typological analyses of village form continue to be of relevance.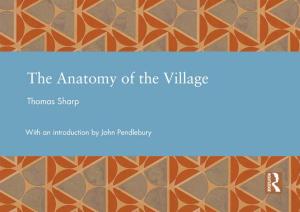 Downloads
Categories
Details about this monograph
ISBN-13 (15)
9780415644990