aE Journal 2019/2020: aE Chair / Innovating Architecture
Synopsis
With a little help from my friends
What would you think if I designed a new world, would you stand up and join me? Lend me your knowledge and I'll design you a place that can help to make a better world.
In 1967 the Beatles made a song in which they asked each other questions: 'with a little help from my friends'. They helped each other to find out topics about life and love.
In 1966 the architect Cedric Price made the provocative statement often used by aE: 'technology is the answer, but what is the question?' It is intended to invite everybody to search, question and reconsider the impact of technological progress on architecture. Now more than 50 years on, this question is as relevant as ever.
We as teachers of Architectural Engineering ask our students to think about which question they want to address. We work from the technical fascination of the student. How do you make something, what is it made of, where does the material come from, why do I want to apply it, what can be improved, does it contribute to a better climate, can it be circular and what added value do you create with the design?
We want to integrate technology optimally in architecture and the built environment.
In our aE graduation studio this philosophy works in different contexts and with different techniques and resources. We are extremely interested in how we can use robotic and CNC milling techniques to make better architecture. We focus on current environments that require innovation. These are areas where shrinkage or the high building density is the challenge. We choose areas in Amsterdam such as the Marineterrein or the renovation of the ZuidoostZuid district. On the border between the Netherlands, Germany and Belgium, we work together with the Landscape Architecture department on Harvest. Or we look at what happens in Bandung in Indonesia or on the island of Sint Maarten. We work through all scales, from component to structure, from object to the entire environment. In this way we work on designing for a new world. For this we are looking for friends who can help us to give the right answer to the design questions that we ask. In this ninth edition of aE journal, we would like to show you the results we have achieved in the recent year with our students and the goals we envisage in the coming period.
Are you a friend of Intecture?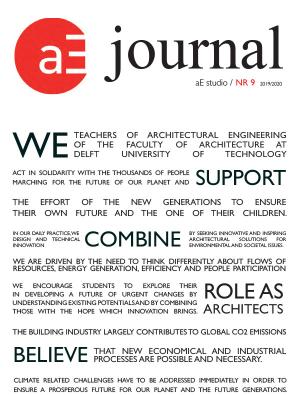 Downloads
Categories
Details about this monograph
Date of first publication (11)
2019-04-01