Robocar and Urban Space Evolution: City changes in the age of autonomous cars
Synopsis
How can we create more human-centered, resilient, and sustainable cities in the tech age? Can we make use of technology and the opportunities presented rather than resisting its fast-paced evolution? What are the biggest and most likely spatial changes that autonomous vehicles will bring in cities? How can this change in mobility contribute to a better urban environment? To what extent do the spatial opportunities created by automated mobility respond to current urban issues and what is the role of urban design and spatial planning in this debate?
Autonomous cars–Robocars–will dramatically change urban environments and the practice of urbanism, potentially making cities less dependent on and less dominated by cars. Driverless and mainly guided by digital infrastructure, Robocars can open up new opportunities for urban development. If guided by sustainable development goals, the automation of mobility can lead to urban evolution–a shared paradigm shift in mobility and urban design. However, if Robocars are introduced as profit-driven products rather than tools to improve cities, they can cause sprawl, undermine public transport and reduce active mobility, ultimately affecting people's health and wellbeing. Consequently, it is necessary to explore how the Robocars' technological capabilities can provide solutions to pressing urban issues, such as growth, climate change, environmental quality, social inequality and the energy transition.
On September 13, 2018, the Section of Urban Design at the Faculty of Architecture and the Built Environment, TU Delft, organised a public debate with international and Dutch experts to discuss the spatial changes that autonomous cars may bring about in cities. Subsequently, this publication gathers illustrated contributions by the key speakers at the symposium, which present ideas and further reflection points on Robocars' relation to the urban environment. The three thematic sessions of the symposium were video recorded and are available online at robocarevolution.com.
The symposium and the publication aim to raise awareness about the importance of the topic for the field of urban design and other disciplines dealing with various aspects of urban sustainability. To date, the topic of autonomous cars has mainly been addressed by car industries, technology companies and transportation planning groups. The current discourse is predominantly driven by business and marketing goals, potentially leading to cities shaped around technology.
In this context, the symposium and the publication are a step forward to engaging various experts in a debate around Robocars and urban design. They propose a complementary approach to the current tech discourse on automated mobility by emphasising the importance of an urban design and spatial planning perspective, thus exploring Robocars as a spatial project. Automated vehicles can bring a mobility revolution: traffic systems and infrastructure can be reinvented, public and private transport modes can blend, and the logic of mobility in cities can be reformed, as time spent in the car will no longer be lost. Such changes create spatial opportunities and can help cities respond better to sustainable development goals; for instance, the space made available if Robocars could park themselves can be redesigned and, instead of parked cars, streets can accommodate more green space and larger sidewalks, revaluing streets as public spaces.
The goal of the Robocar and Urban Space Evolution symposium and publication is to start a more inclusive debate about Robocars and their impact on the urban environment and to explore the potential of this new technology beyond market-oriented goals. The experts involved came from multiple disciplines, including spatial planning, urban design, architecture, ecology, psychology, environmental engineering and transportation planning. They discussed why and how we need to engage with the topic, given that mobility automation will dramatically shape the urban environment in different contexts and societies in the coming decades.
The publication includes contributions by Rients Dijkstra and Anca Ioana Ionescu, Dominic Stead, Ví­ctor Muí±oz Sanz, David Hamers, Salvador Rueda, Nico Larco, Emilia Bruck and Mathias Mitteregger.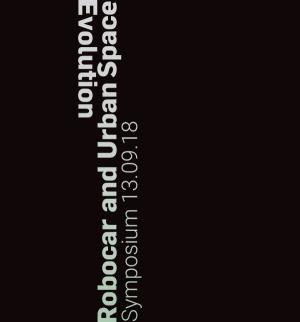 Downloads
Details about the available publication format: Download PDF
ISBN-13 (15)
9789463661485
Date of first publication (11)
2019-03-01