Van den Broek & Bakema: Vigorous protagonists of a functionalist architecture at the TH Delft
Keywords:
inaugural speech
Synopsis
Though unalike in personality, functionalist architects Johannes Hendrik (Jo) van den Broek (1898-1978) and Jacob Berend (Jaap) Bakema (1914-1981) were inextricably bound up with each other both as partners in their Rotterdam office, Van den Broek and Bakema Architects, and as professors at the Technical College of Delft. [Fig. 1] Each represents a type of Dutch functionalism. Van den Broek was one of the founders of Nieuwe Bouwen, the modernist movement in Dutch architecture and construction after 1930; Bakema was among the enthusiastic architects of the post-war period moving modernist architecture in a new direction. Van den Broek and Bakema were two outstanding and outspoken characters, invariably typified in architectural historical literature as opposites: the analyst and the idealist, the pragmatist and the philosopher, the schoolmaster and the priest. Van den Broek and Bakema Architects was a key player in the postwar reconstruction of the Netherlands. Despite the sheer size of the task and the shortage of manpower and building materials, the Netherlands had quickly mounted a large-scale operation to rebuild bombed areas with industrially manufactured mass housing and a new cityscape.
Van den Broek and Bakema Architects was known for its large-scale building projects, its problem-solving ability, and it generated new ideas about architecture, urbanism, and society. After the war, both architects were appointed extraordinary professors at the Technical College of Delft; Van den Broek from 1947 until 1964 and Bakema from 1964 until his death in 1981. Each left his mark on both architectural education and the atmosphere of the Department of Architecture.
Because of the grand scale of construction in the first decades after the war, Van den Broek and Bakema asked themselves what the architect's role and responsibility were in an increasingly technology-dominated society. It is not surprising that this question was the main theme in their teaching and in their inaugural speeches. Van den Broek gave his inaugural speech in 1948; Bakema in 1964. These two dates mark more or less the start and the completion of the post-war reconstruction.
The Chair History of Architecture and Urban Planning publishes their inaugural speeches with a small critical apparatus, to discuss these professors at the Technical College and the work that they did with students; and to shed new light on a lesser known period in these men's careers, as well as to contribute to the history of the Technical College in Delft, in particular of its role in architecture and planning education in post-war society.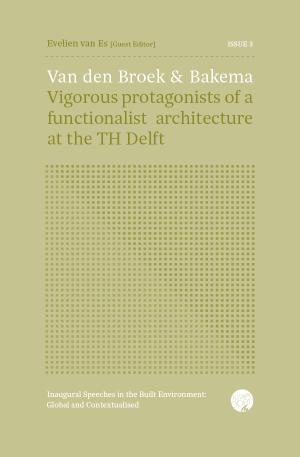 Downloads
Details about this monograph
ISBN-13 (15)
9789463661188
Date of first publication (11)
2018-12-01