Dissemination, Future Research and Education: Adaptive Facade Network
Synopsis
This booklet is one of three final documentations of the results of the COST-Action TU 1403 'ADAPTIVE FACADE NETWORK' to be published next to the proceedings of the Final COST Conference 'FACADE 2018 — ADAPTIVE!' and a Special Issue of the Journal of Façade Design & Engineering (JFDE).
While the proceedings and the journal present current scientific research papers selected through a traditional peer review process, these three final documentations have another focus and objective. These three documentations will share a more holistic and comparative view to the scientific and educational framework of this COST-Action on adaptive facades with the objective to generate an overview and a summary — different from the more specific approach of the proceedings and connecting to the first publication that was presenting the participating institutions. The three titles are the following and are connected to the deliverables of the responsible Working Groups (WG):
Booklet 3.1 Case Studies (WG1)
Booklet 3.2 Building Performance Simulation and Characterisation of Adaptive Facades (WG2)
Booklet 3.3 Dissemination, Future Research and Education (WG4)
Booklet 3.1 concentrates on the definition and classification of adaptive facades by describing the state of the art of real-world and research projects and by providing a database to be published on COST TU 1403 website (http://tu1403.eu/). Booklet 3.2 focusses on comparing simulation and testing methods, tools and facilities. And finally, Booklet 3.3 documents the interdisciplinary, horizontal and vertical networking and communication between the different stakeholders of the COST-Action organised through Short Term Scientific Missions (STSM), Training Schools and support sessions for Early Stage Researchers (ESR) / Early Career Investigators (ECI), industry workshops, and related surveys as specific means of dissemination to connect research and education. All three booklets show the diversity of approaches to the topic of adaptive facades coming from the different participants and stakeholders, such as: architecture and design, engineering and simulation, operation and management, industry and fabrication and from education and research. The tasks and deliverables of Working Group 4 were organized and supported by the following group members and their functions:
— Thomas Henriksen, Denmark ESR/ECI
— Ulrich Knaack, The Netherlands Chair (2015-16)
— Thaleia Konstantinou, The Netherlands ESR/ECI
— Christian Louter, The Netherlands Vice-Chair, STSM Coordinator
— Andreas Luible, Switzerland Website, Meetings
— David Metcalfe, United Kingdom Training Schools
— Uta Pottgiesser, Germany Chair (2017-18)
As editors and Chairs, we would like to thank the Working Group members and authors from other Working Groups for their significant and comprehensive contributions to this booklet. Moreover, we sincerely thank Ashal Tyurkay for her great assistance during the whole editing and layout process. We also want to thank COST (European Cooperation in Science and Technology).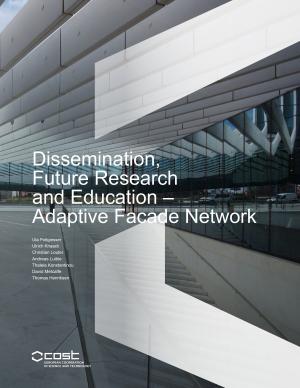 Downloads
Categories
Details about this monograph
ISBN-13 (15)
9789463661126
Date of first publication (11)
2018-12-01