Affordable Condominium Housing: A comparative analysis of low-income homeownership in Colombia and Ecuador
Keywords:
housing policy, property law, condominium, colombia, equador, low-income, housing
Synopsis
Both the general public and policy makers see home ownership as a major life goal. Owning a home is a form of capital that creates a social safety net (Elsinga, 2005; Moser, 2009). Home ownership can also help boost self-esteem and contribute to housing satisfaction (Elsinga & Hoekstra, 2005; Marcuse, 1972). In South America, owning your own home is a way to ensure basic economic security and is a dream shared by everyone. For this reason, large-scale investments are needed in owner-occupied homes for low-income buyers. A different light is shed on this dream however when it becomes clear that the quality of subsidized property for low-income groups is subpar due to poor maintenance and buildings quickly deteriorate. This occurs in Chile, Mexico, Brazil, Colombia and Ecuador (Paquette-Vasalli & Sanchez, 2009; Rodriguez & Sugranyes, 2005; Rojas, 2010).
Most studies into housing quality and poor maintenance have been conducted among single-family homes owned by individuals. In South America, especially in cities, low-income homes are usually apartments. This means ownership is shared with other building residents. Most maintenance-related issues occur in joint ownership properties and there is little literature available on this topic.
The aim of this study is to gain more insight into how homeowner's associations work in low-income owner-occupied apartments. When parts of the residential buildings such as the ground on which they are built and the infrastructure are joint property, then a homeowner´s association is necessary to keep maintenance of the common property parts. The lack of maintenance of these communal areas is a problem of increasing proportions, which has prompted this research. Which factors play a decisive role in how homeowner's associations function and how building maintenance is organized, how important is the horizontal property law and how does this affect low-income housing policy in Colombia and Ecuador?
This PhD dissertation consists of three components: Part 1 presents the research question, the theoretical framework and the research methods. Part 2 discusses the formal institutions (the rules of the game) involved: housing policy and the property law. Part 3 discusses the informal rules which include the cooperation between professionals and the interaction with residents (the play of the game). The summary includes conclusions and implications for follow-up research and policy.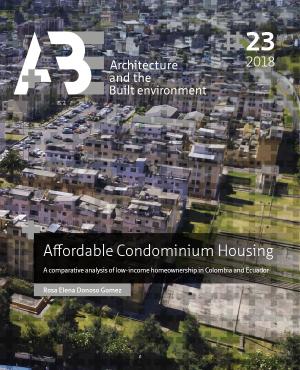 Downloads
Categories
Details about this monograph
ISBN-13 (15)
9789463660761
Date of first publication (11)
2018-09-28
Physical Dimensions
190mm x 235mm