aE Journal 2017/2018: aE/Intecture innovating architecture
Keywords:
architectural engineering, AE T
Synopsis
Driven by the need to think differently about resources, energy, power generation, the choice of materials, and user involvement, we see the built environment in a new perspective. The program, Architectural Engineering, seeks for innovative and inspiring architectural solutions for social and environmental issues throughout all scales.
To achieve this, innovation of the architectural challenge is high on our agenda. Innovation is more than just a technical improvement. How do you implement new current issues in modern architecture? We anticipate new energy, materials, and circularity. We also use the current environment of the metropolis and the countryside. We add new buildings, strengthen existing stock, and work on new components of buildings. From high to low tech. From digital to traditional, looking carefully to the context.
We like to work together. Partners have been found in Landscape Architecture in the HARVEST-BK project for the Rotterdam Architecture Biennale in Rotterdam (IABR 2020) and Parkstad Zuid Limburg (IBA 2020). We work together with Heritage & Architecture and the department of Urbanism within the Shared Heritage Lab, in Bandung Indonesia. In Amsterdam, hundreds of international Master's students from different semesters are working on the renewal of AMC, the largest 40-year-old academic hospital in the Netherlands. It is a completely covered city, with half a million square meters of indoor space. Our ideas for creative solutions for the Marineterrein as a breeding ground for slow architecture have found their way to the Future of the City debate. TU Delft partner AMS (Amsterdam institute for Metropolitan Studies) will soon be established on this location.
In order to inspire the innovative strength and debate, we are hosting Paul Kalkhoven, partner at Norman Foster, as a guest professor until spring 2019. We are looking for 'the new architect', the role that the architect can play in the renewal of architectural issues. From large to small scale, from panorama to artefact. We like to train decisive specialists and broad generalists. We share projects and ideas with students, teachers and researchers. We are proud to present you this 8th journal.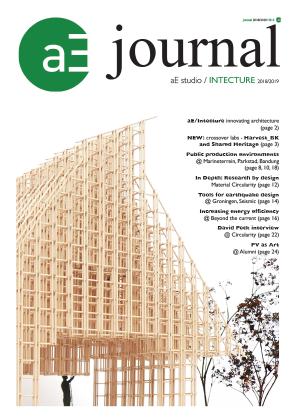 Downloads
Categories
Details about this monograph
Date of first publication (11)
2017