Developing a Framework for Qualitative Evaluation of Urban Interventions in Iranian Historical Cores
Keywords:
historical core, urban, preservation, Iran, Valletta Principles, Historic Urban Landscape
Synopsis
Iranian historic city cores are important parts of modern cities because of their valuable monuments and morphology but are also significant because of their population density, location and the major governmental functions they house. Since 1920, modernisation policies and urban development trends in Iran have justified spatial transformation and redevelopment and the demolition and destruction of traditional urban fabrics as a way to provide contemporary requirements and hygiene improvements for the residents. As the UNESCO recommendation on the Historic Urban Landscape argues, historic urban cores can only sustain their role in the daily life of the city by getting prepared for and participating in this transformation process.
Disagreement over the value of historic urban cores on the one hand and inevitable modification of urban areas in a developing country like Iran on the other, creates a problematic condition for the preservation of the historic environment. The Valletta Principles for the Safeguarding and Management of Historic Cities, Towns and Urban Areas states that historic towns and urban areas require an integrated approach including their "protection, conservation, enhancement and management as well as their coherent development and their harmonious adaptation to contemporary life". In order to support the process of reaching a balance between these spatial targets in Iran, this research discusses the relation between urban transformation projects and their heritage context. In doing so it connects international literature on urban quality and traditional Iranian urban forms to contemporary Iranian urban design practice.
To achieve this integration between urban heritage and spatial development, a framework of quality attributes has been developed to evaluate urban interventions in a heritage context. The three main pillars of this framework have been extracted from and inspired by international literature and guidelines. Place-making theories have proved to be especially helpful. An analysis of traditional urban forms in Iran and their main characteristics - especially for the urban type of the bazaar — has provided a list of specific and relevant parameters. The framework has been tested by evaluating two case studies in Shiraz that illustrate two different approaches to heritage intervention on an urban level. The outcome has led to modification of the framework and new research questions.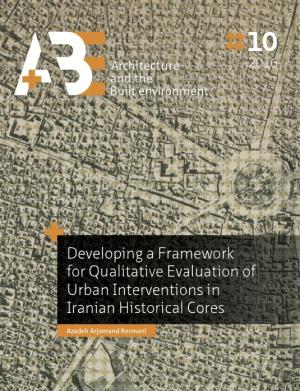 Downloads
Categories
Details about this monograph
ISBN-13 (15)
9789461866844
Date of first publication (11)
2016-06-24
Physical Dimensions
191mm x 235mm