Designing from Heritage: Strategies for Conservation and Conversion
Synopsis
Designing from Heritage deals with challenges architects are faced with when dealing with the conservation and reuse of built heritage, with a focus on Modern Movement Monuments. It discusses how to carry out a thorough analysis and evaluation of monuments upon which their conservation and transformation can be based. It is meant for MSc education, but may be of interest to architects in general.
This book — the third in the Rondeltappe series — reflects the philosophy and didactic approach of Heritage and Architecture (H&A) section of the Faculty of Architecture and the Built Environment (Delft University of Technology). H&A has three chairs: Design, Cultural Value and Technology. They work in close cooperation to lay the foundations for the preservation and continuity of use of built heritage.
Designing from Heritage is strongly connected to the first book in the Rondeltappe series which deals with durability and sustainability of monuments, and with the second which advocates  freedom in heritage based design. It contains the contribution of Prof. Wessel de Jonge — the Chair of Heritage and Design and principle at Wessel de Jonge Architects — and Prof Marieke Kuipers — Chair of Culural Heritage in particular of the Architecture of the Twentieth Century and senior specialist of Twentieth Century Built Heritage at the Cultural Heritage Agency of the Netherlands (RCE).
Designing from Heritage is subdivided in four chapters: 
The first, a contribution by Wessel de Jonge, sketches issues of transitoriness and timelessness related to the reuse of Modern Movement monuments. Their values, characteristics and potentials are the foundations for architectural design aimed at guaranteeing their future lives.
In the second chapter, Marieke Kuipers presents a didactic exercise in critical observation of the architectural object. 
In the third, she discusses the interpretation of tangible and intangible heritage values in order to specify the main characteristics and critical issues in relation to continuity and change. 
Finally, Wessel de Jonge presents his experience of the role of the architect in relation to heritage value assessment, with specific reference to the conservation of Modern Movement monuments.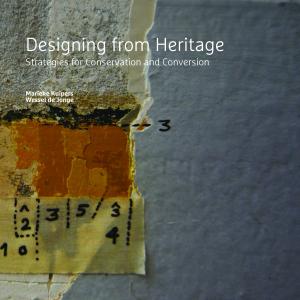 Downloads
Categories
Details about this monograph
ISBN-13 (15)
978-94-6186-802-2
Date of first publication (11)
2017-03-01
Physical Dimensions
216mm x 216mm