Street-level desires, Discovering the city on foot: Pedestrian mobility and the regeneration of the European city centre
Keywords:
koblenz, rouen, norwich, delft, tu delft
Synopsis
In the spring of 2004, Delft University of Technology was approached by Norwich City Council with a request to participate in their project Spatial Metro.
Spatial Metro was developed within the framework of Interreg IIIB. Interreg is a community initiative which aims to stimulate interregional cooperation within the EU, financed by the European Regional Development Fund (ERDF). The programme aspires to strengthen economic and social cohesion throughout the EU by fostering the balanced development of the continent through cross-border, transnational and interregional cooperation. The B strain of Interreg deals with transnational cooperation. As an Interreg IIIB project in the North-west European region, Spatial Metro brings together partners from the United Kingdom, France, Germany, The Netherlands and even Switzerland.
The original Spatial Metro project proposal is straightforward. It claims that cities are chaotic places. It states that tourists, visiting business people, shoppers and even residents rarely have a clear or coherently expressed view of what a city has to offer geographically or thematically. The proposal assumes that people's stay is shortened by their lack of overview of or information on what a town can offer them. As lead partner of the project, Norwich explains in quantitative terms what this means to the economy of a city:
Visitors who plan a day trip to a city will stay in town for an average four to four-and-half hours and spend about £ 100. If the welcome they receive is inhospitable, the destination is confusing, and demands are not met, the same visitor will tend to leave after only two hours and spend less than £ 50. If their arrival is welcoming, the destination is safe, clean, relaxed and intelligible and if visitors can navigate their way around and their initial expectations are fulfilled or surpassed, they will stay for six to seven hours and spend more than £ 150.
At first glance, these statements may seem somewhat narrow in scope. Not every city is chaotic and surely there is more to life than just money. However, placed in their proper context, these words make perfect sense. Five cities are participating in Spatial Metro: Norwich and Bristol (UK), Rouen (F), Koblenz (D) and Biel/Bienne (CH). Each of these cities is characterised by a historic city centre. Norwich itself is proud to have the most intact mediaeval street pattern of the United Kingdom. Mediaeval street patterns are the product of spontaneous urban growth and lack the sometimes rigid clarity of modern planned developments. Mediaeval street patterns are indeed difficult to navigate and pose a true challenge.
Norwich also developed a successful and long-standing policy to prevent out of town shopping by strengthening the vitality of its original historic district. Such a policy requires a city to take a serious look at its economic performance.
From this perspective, it is a sound approach to optimise conditions allowing people to discover a city on foot. As such, the Spatial Metro project prompted the Delft University of Technology to tap into a greater European experience that integrates aspects such as urban renaissance, built heritage, public space, pedestrian mobility, leisure economy and even sustainability.
The partnership also included knowledge organisations. Each of these partners has supported the project in their own unique way. The University of East Anglia deployed its automated modelling software to visualise the original historic centres. The University Koblenz/Landau delivered a so-called Blue Box that provides on the spot information by means of Bluetooth technology. The Swiss Pedestrian Association made various contributions as a strategic and competent expert organisation on pedestrian mobility.
The Delft University of Technology examined the question as to how to assess the effectiveness of the investments made in Norwich, Rouen and Koblenz. How can aspects like the accessibility and navigability of public spaces be measured? Much of the effectiveness hereof naturally depends on the way people use the public space. We used novel tools to analyse in detail the movement patterns of people visiting these three city centres.
Finally, Delft decided to capture the essence of the Spatial Metro experience in a document reflecting the versatility of the transnational response to pedestrian mobility and the regeneration of the historic European city centre. The document became this book, 'Street Level Desires'. The book aims to disseminate our experience and knowledge to further strengthen social and economic cohesion throughout Europe.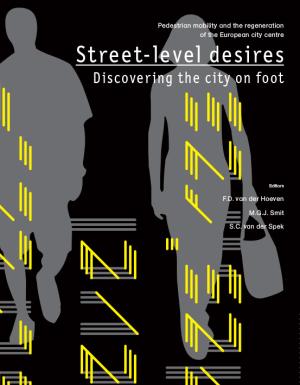 Downloads
Categories
Details about the available publication format: Order this book online
Co-publisher's ISBN-13 (24)
9789090231679
Details about the available publication format: Download PDF
ISBN-13 (15)
9789090231679
Date of first publication (11)
2009-01-01
Physical Dimensions
195mm x 250mm