OverHolland 7: Architectural studies for the Dutch city
Synopsis
Before you lies the 5x5 Projects for the Dutch City publication, the result of the eponymous research project conducted at the Faculty of Architecture of Delft University of Technology. The 5x5 project aims at investigating the relationship between architectonic interventions and urban transformations in the station areas of five smaller historical cities in the Randstad, the urban agglomeration of Western Holland: Haarlem, Leiden, Gouda, Delft and Dordrecht. The starting point was the hypothetical assumption that in the future and following the Delft example, the railway in these cities will be placed underground in the inner city area. The results of the first part of this research — analyses of various locations and the impulse for a problem definition for the research by design — have been previously published in OverHolland 5 (SUN, 2007). The second part of this research project consisted of research by design for the five abovementioned station areas, carried out by five teams of architects. The results are presented in this specially designed seventh issue of the OverHolland series, entitled 5x5 Projects for the Dutch City.
Leen van Duin initiated this research project and is also responsible for its concept. With this pilot project he wants to encourage research by design at the Faculty of Architecture. Henk Engel was responsible for the elaboration of the content and the structure of the project, while François Claessens handled the project coordination.
The design research was supervised by five architects associated with the Delft University of Technology: Jo Coenen (Haarlem), Michiel Riedijk, Niklaas Deboutte, Kersten Geers (Leiden), Dick van Gameren (Gouda), bOb van Reeth (Delft) and Henk Engel (Dordrecht), and carried out by their respective staff members: Anne Snijders (Haarlem), Sjoerd Schaapveld and Rasmus Hamann (Gouda), Peter van Doninc (Delft), Olivier van der Bogt, Marius van der Meulen and Bart van den Ende (Dordrecht).
The preliminary research and coaching of the design teams was executed by members of the Urban Architecture research group at the Faculty of Architecture: Olivier van der Bogt, Roberto Cavallo, Esther Gramsbergen, Lara Schrijver and Willemijn Wilms Floet.  Map research of the five project locations was done by Iskander Paní© and Otto van Diesveldt. The five project scale models were made by teaching assistants Inouk Brouwer, Sjors de Graaf, John Jaspers, Jaimy Siebel and Froukje de Vries. A special thanks to all of them for their efforts in successfully finishing this project.
We would also like to thank Roger Willems who designed this book and in particular Henk Hoeks of SUN Publishers for believing in this project. Finally, we would like to thank the Faculty of Architecture of the Delft University of Technology for its financial support of this project and its publication.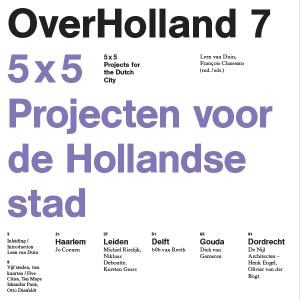 Downloads
Categories
Details about the available publication format: Download PDF
ISBN-13 (15)
9789085065654
Date of first publication (11)
2008-04-01
Physical Dimensions
290mm x 290mm