Water inSight: An exploration into landscape architectonic transformations of polder water
Keywords:
landscape architecture
Synopsis
Water inSight provides insight into the 'water machine' that forms the basis of the Dutch polder landscape. Authors Inge Bobbink and Suzanne Loen approach the polder landscape from a landscape-architectonic point of view, using technical and spatial analysis drawings, images, plans and experiments to visualise the Netherlands and its water system.
Special attention has been paid to polder water, the difference between a peat polder and a lake-bed polder, and the adaptations that are required in the face of climate change. Analyses of the Eendragtspolder, the Belvedí¨re museum, Wickelhof Park and the Onnerpolder pumping station show the diversity of the Dutch water machine and its potential landscape-architectonic qualities.
Water inSight is an accessible book for everyone who has a desire to understand the Dutch polder landscape and to be able to recognise the workings of the water machine and adapt it in a landscape-architectonic design. The book contains practical applications and is aimed at water design and management professionals, landscape architects and landscape managers.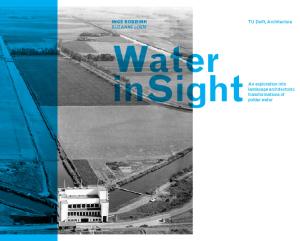 Downloads
Categories
Details about this monograph
ISBN-13 (15)
9789461861290
Date of first publication (11)
2013-01-01
Physical Dimensions
229mm x 178mm