ne–xt facades: Proceedings of the COST Action TU1403 Adaptive Facades Network Mid-term Conference
Philipp Lionel Molter

,

TU München, Architektur

;

Moritz Mungenast

,

TU München, Architektur

;

Matej Banozic

,

Technische Universität Graz

;

Oliver Englhardt

;

Tillmann Klein

,

TU Delft, Architecture and the Built Environment
Synopsis
The ne-xt facades conference is the official International Mid-term Conference of the European COST Action TU1403 'Adaptive Facades Network', an international scientific cooperation with the aim to harmonise, share and disseminate technological knowledge on adaptive facades on the European level. During the mid-term conference first results are presented to stakeholders from industry and design and to the public. The goal is to share knowledge and discuss novel facade concepts, effective evaluation tools and design methods for adaptive facades. Alongside the contributions from members of the COST Action, the conference received many contributions from external researchers and the industry. This added to the interesting debate about adaptive facades we believe it was an excellent stage to test the first results of the COST Action.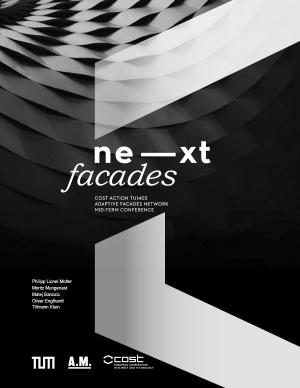 Details about this monograph
ISBN-13 (15)
9789463661058
Date of first publication (11)
2018-11-21
Copyright Notice
Copyright (c) 2018 Philipp Lionel Molter, Moritz Mungenast, Matej Banozic, Oliver Englhardt, Tillmann Klein (Volume editor)
Rights
This work is licensed under a Creative Commons Attribution 4.0 International License.