Heritage, History and Design Between East and West: A Close-Up on Kyoto's Urban Fabric
Keywords:
Kyoto, urban fabric, heritage, history
Synopsis
This book comprises a collection of essays on traditional machiya in Kyoto from various viewpoints and at different scales, including the urban fabric, the construction, the layout of the space plan, and building materials and details. By discussing the topic further from the various perspectives of the Dutch and Japanese scholars, we aim not only to cultivate a better understanding of machiya, but also to clarify the difference between the Netherlands and Japan in terms of ideas and approaches to preservation and regeneration of historical buildings.
Concepts and approaches with respect to traditional architecture differ greatly between the Netherlands and Japan. The differences lie not only in the construction methods, respectively brick and timber construction, but also in the ways of living, as well as miscellaneous systems and regulations regarding architectural materials. Efforts to clarify such differences will promote a better understanding of each other's culture, history and context, as well as comparative studies and a re-evaluation of ideas and approaches to preservation, regeneration and adaptive reuse of historic buildings in both countries.
This book was conceived as a record of the outcomes of exchanges between students and scholars of architectural history, preservation and adaptive reuse at Delft University of Technology (TU Delft) and Kyoto Institute of Technology (KIT). The exchange started when Kazuto Kasahara from KIT joined TU Delft's RMIT (which later became the Heritage & Architecture section) as a visiting scholar from 2010 to 2011, and conducted surveys and research on preservation and adaptive reuse of historical buildings. Since then, both universities have been engaged in ongoing research and educational exchanges through KIT's invitations to scholars from TU Delft. In February 2012, KIT hosted the international symposium The Present and Future of Preservation of Modern Architecture and invited Marie-Thí©rí¨se van Thoor and Hielkje Zijlstra to lecture. On the occasion of other symposia on preservation and adaptive reuse of historical buildings, Wessel de Jonge (November 2016) and Paul Meurs (February 2018) were invited to speak. In March 2015, Paul Meurs and Hielkje Zijlstra visited Japan to investigate possibilities for further collaboration in research and education within the KYOTO Design Lab, an institution launched by KIT and dedicated to practice-based research and innovation in, amongst others, the field of urban revitalization and architectural design. As a first joint project, KIT and TU Delft organized the design project Heritage & Machiya, involving a group of ten students from each university, from November 2015 to February 2016. Sara Stroux and Alexander de Ridder from the Netherlands and Kazuto Kasahara and Kazue Akamatsu from Japan participated in the project as instructors. The students' works were exhibited at TU Delft in November 2016.
Five TU Delft scholars spent a month in Kyoto conducting research into machiya: Hielkje Zijlstra (Nov.-Dec. 2015), Lidwine Spoormans (Jan.-Feb. 2016), Carola Hein (July-Aug. 2016), Marie-Thí©rí¨se van Thoor (Feb.-Mar. 2017), and Barbara Lubelli (July-Aug. 2017). Most of the contributions in this book present the outcomes of these study trips.
Thus, TU Delft and KIT have been cultivating research and educational exchanges especially in the field of preservation and adaptive reuse of historical buildings, which are the challenges of the immediate future in the Netherlands and in Japan. The exchanges between both universities will hopefully contribute to finding solutions.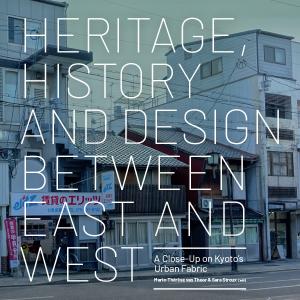 Downloads
Categories
Details about this monograph
ISBN-13 (15)
9789463660280
Physical Dimensions
210mm x 210mm