efnMOBILE 2.0 / Efficient Envelopes
Keywords:
ICBEST, European Facade Network, efnMOBILE, facade technology, building technology, architectural engineering
Synopsis
Based on the experiences of efnMOBILE 1.0 the hands-on student workshop activities and exhibitions took place in different evironments and locations encouraging new technologies and methodologies. Like efnMOBILE 1.0 the new workshop series efnMOBILE 2.0 provides the European Facade Network (efn), its conferences and the connected professional community with a local platform for communication, exhibition, innovative development and interaction. efnMOBILE 2.0 is reaching out to be developed from a European communication and technology exchange instrument into an international tool to exchange with the global facade community.
All events of efnMOBILE 2.0 follow an overall theme: 'Efficient Envelopes'. Focusing towards adaptive and transdisciplinary approaches to improve the building envelope's thus the building's performance through human-centered solutions in facade technology. The task is to inspire the upcoming generation of architects, designers and engineers to allow themselves to follow uncharted paths of development, think outside the box, to build showcase examples, and to come up with ground-breaking solutions — for a better design as it relates to climate, health and an overall building design approach. The concept is supposed to foster the dialogue around sustainable design and development and to increase awareness and actionable solutions for sustainable design.
In 2016 and 2017 efnMOBILE 2.0 has been present at three annual conferences of efn: Lucerne 2016, Delft 2017 and Detmold 2017 and additionally at the glasstec fair 2016 in Dusseldorf (Germany), and in 2017 at the University of Antwerp and the ICBEST conference in Istanbul (Turkey). Each event includes a three-to-five-days-workshop on location — to inspire and innovate - followed by a period designated to design development and engineering, and concludes with a final presentation to the professional public at fairs, conferences or in the educational context.
During each event, the participants build mock-ups of different scales, do field research or intercultural exploration. To reach this goal the project contributes to the following outcomes:
increased knowledge sharing between the various European research and education centres and between those centres and industry and further international actors.
development of novel concepts and technologies and/or the new combinations of existing technologies.
development of new knowledge such as effective evaluation tools/methods for adaptive facades.
start of new collaborations and research projects in the area of facades technologies.
This time efnMOBILE 2.0 also included an international online survey on facade education with responses from more than 200 participants. The survey addressed practitioners and scholars and was focussing on the needs and expectations of facade industry and consultancy. The results of the survey will help to further improve the existing programs and to develop new programs overseas.
efnMOBILE 2.0 has been made possible through the funding of the ALCOA Foundation. The editors and the efn-members like to thank ALCOA Foundation for supporting this initiative to make building envelope design and connected educational programmes more efficient and successful by creating a platform for organized sustainable creative thinking.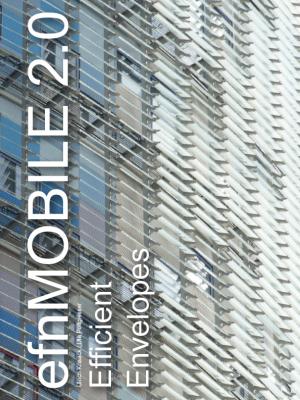 Downloads
Categories
Details about this monograph
ISBN-13 (15)
978-94-92516-87-9
Date of first publication (11)
2017-11-01
Physical Dimensions
210mm x 279mm